»
Desert Combat - Contra Tournament
Posted February 23, 2021. By
predator_bg
.
---



Greetings Generals

Following the growth of the Contra Mod community & the wonderfully balanced fun gameplay it offers, the very first tournament has opened for signups.




Date, Time and Location

Desert Combat will be on Sunday, 28th Feb beginning at 16:00 GMT. We will meet in the Contra Tournaments network on Radmin immediately after you check-in.



One map will be played per round.
Tournament Desert / Map for Round 1
Lagoon Day / Map for Round 2
Barren Badlands / Map for Round 3
Gorge Drought / Map for Finale

**** ALL REPLAYS MUST BE SAVED! ****
Desert Combat will be a SINGLE ELIMINATION. All rounds will be BO3 up to the Semi-Finals which are a Bo5. There is no 3rd place match.

Minimum participants: 8
Maximum participants: 16


Registration

All you need to do to register for this tournament is to post your in-game name & Discord name in the registration topic (also linked below). Only register if you're going to be able to show up on the day of. Registration officially closes on Saturday, 27th Feb at 20:00 GMT.


Check-in

The check-in period will be between 15:00 and 16:00 GMT, at which point the brackets will be drafted and made official. There will be an official check-in thread that will open at 15:00. To check-in: simply post in the check-in thread and include your in-game name if it's different than your forum name. If you check in and you don't participate, you may be banned from any tournaments for 30 days. If you can't play, don't check-in. Only players that are registered will be allowed to check-in. Only checked in players will be in the bracket. If you have a situation that would cause you to not be able to check-in, but you can still participate then message Leikeze.

You will have 15 minutes to begin your games after the brackets are posted. Brackets will likely be posted by 16:05, but this depends on how late players check-in. You must start your games by 16:15 or you will be disqualified.


If you're early then you're on time. If you're on time then you're late. And if you're late you're disqualified!

There is simply no fun in sitting around waiting on people, so the 15 minutes is the maximum grace period allowed in between all rounds. Failure to appear at any stage of the event will result in a forfeit. Extreme circumstances can be discussed with event staff.

If you need to take a break in between games, inform your opponent and the Referee. At most, five minute breaks will be allowed and only if needed. Maximum one break per round. If a player is found to be abusing this freedom or failing to inform the necessary parties or not returning on time, you will be disqualified at Referee discretion.


Streaming

All matches will be streamed. So do not start playing until you and your opponent have arranged with a streamer.

In case the streamer causes bad lag, you may choose to play without one, however, you must then send the replay after each match to a streamer so that they can stream the matches.


|
View Comments
|
»
Contra 009 FINAL Patch 3 Hotfix
Posted January 27, 2021. By
predator_bg
.
---
Welcome to another update! A small hotfix patch has just been released!
NOTE: This hotfix includes cosmetic and solo play changes only, so it is not required to keep playing online! You will not get a mismatch if some players have the hotfix, but others don't.
Contra Launcher will ask you to download and apply the hotfix, so you don't have to bother doing it manually.
There's not quite too much more to say or show, so here's a straight link to the changelog: https://www.moddb.co...angelog-part-23
|
View Comments
|
»
Contra 009 FINAL PATCH 3 released!
Posted December 31, 2020. By
predator_bg
.
---
Happy New Year everyone!
Thank you for voting once again in this year's MOTY!
We made it to honorable mentions, and that's a good sign that people still love and support our work.

As promised, Patch 3 is here!!!!
We've worked hard, especially this month, to make even more content. As usual we worked on all aspects, visuals, balances, voices, bug fixes, everything to improve previous version and to give something new, as we heading towards our final goal = Contra which will have everything in its best!

There are many people who are working with us freely, artists, testers, voice actors, mappers. They are all respectively listed and credited in Credits!

With every update, we also share sneak peak of new stuff. We will respect tradition!
USA Cybernetic Lancer Droid model was not well received by many people as it didn't fit rank 1 drone army. Lancer benefits from AP Bullets upgrade (+25% damage).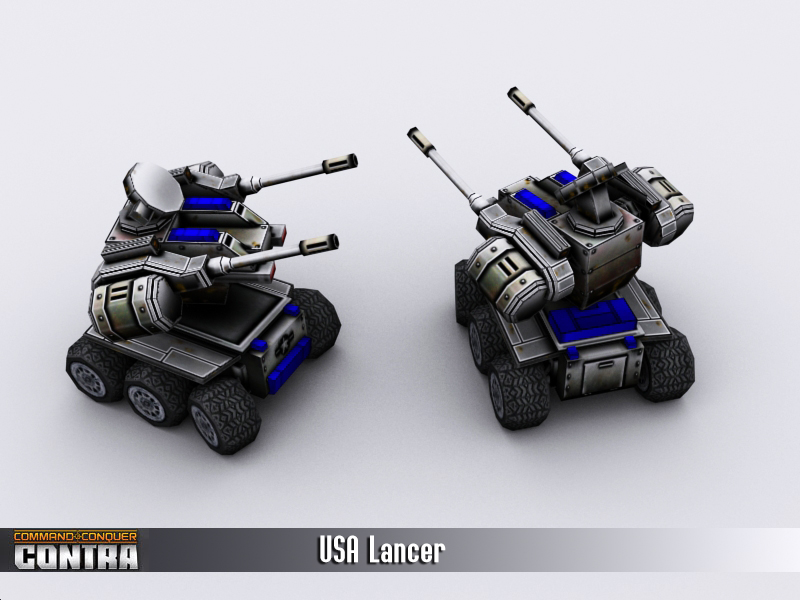 We started with GLA structures in past, adding extra objects to each side to make structures even more unique. We continued with all other factions too. You will notice them in game even more.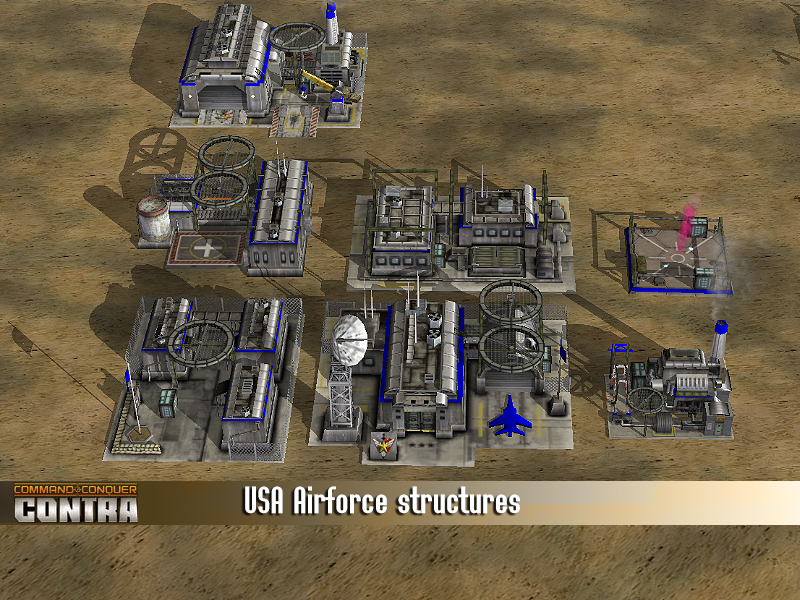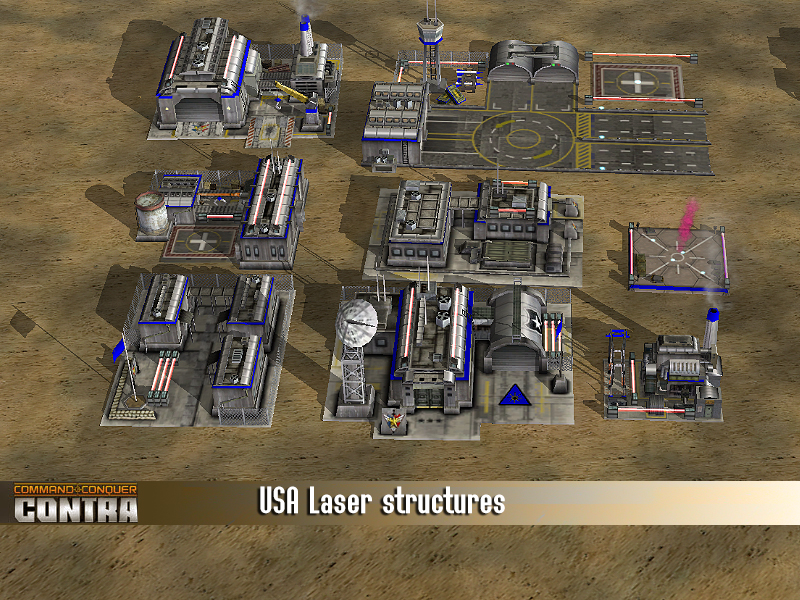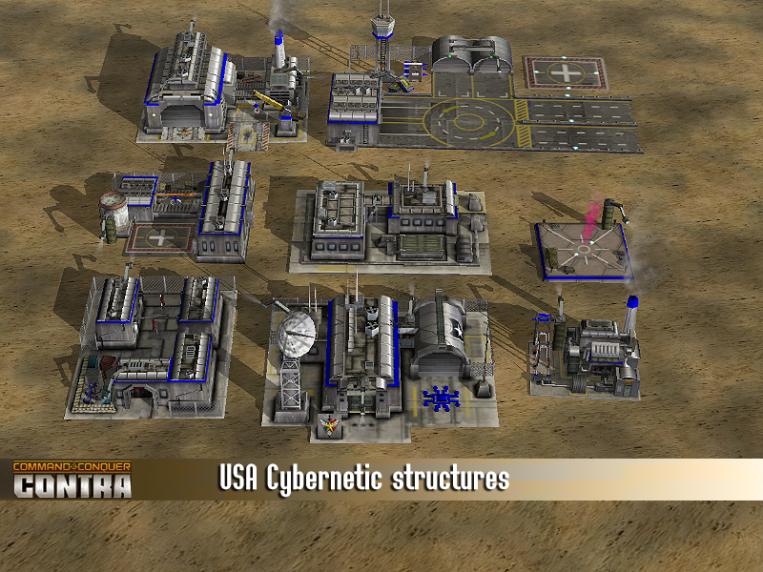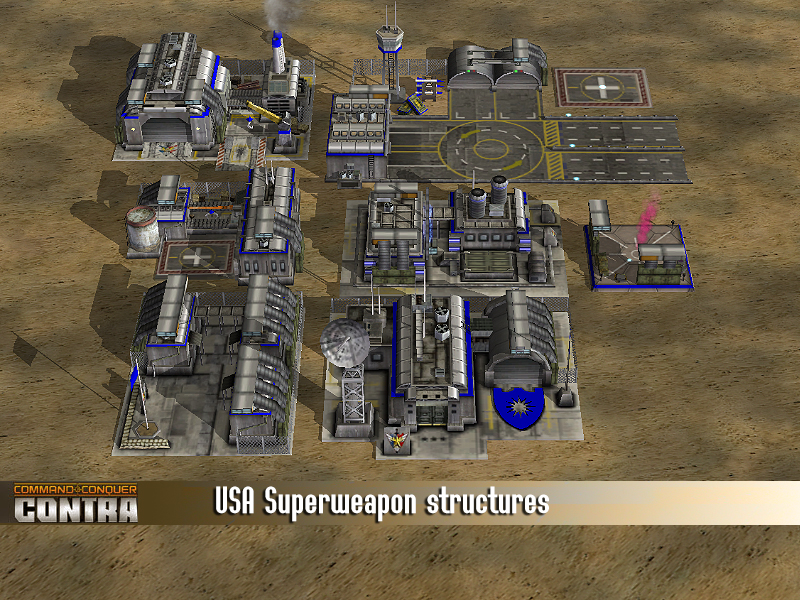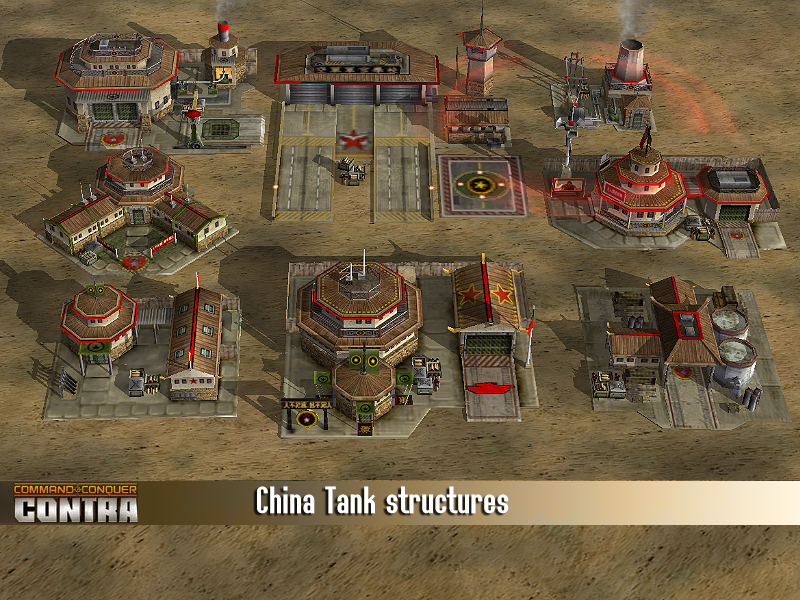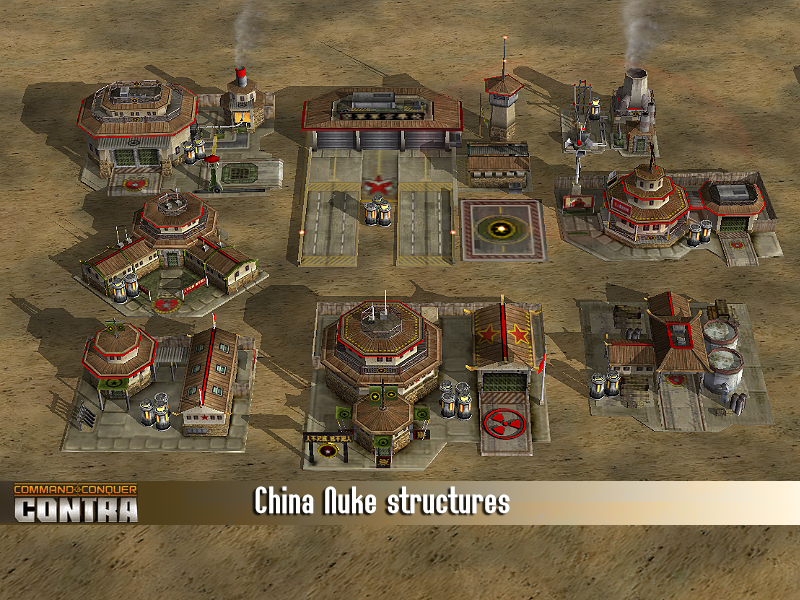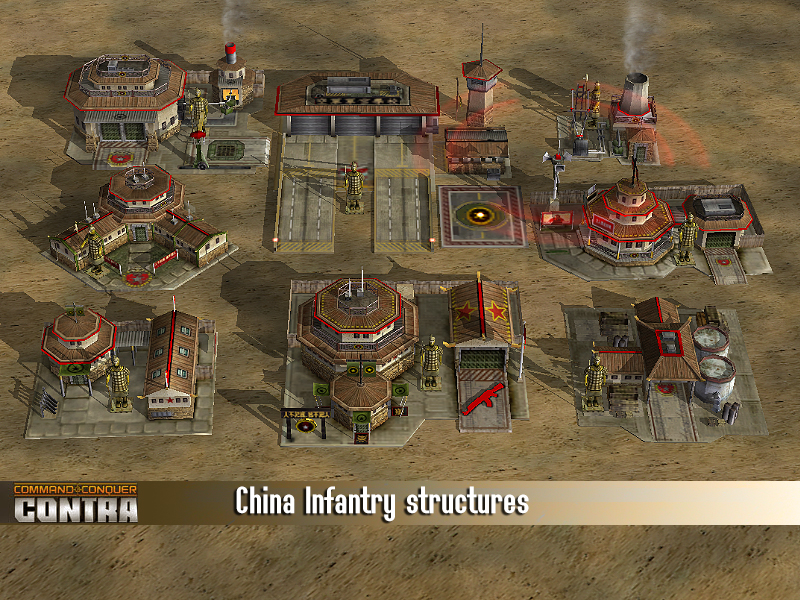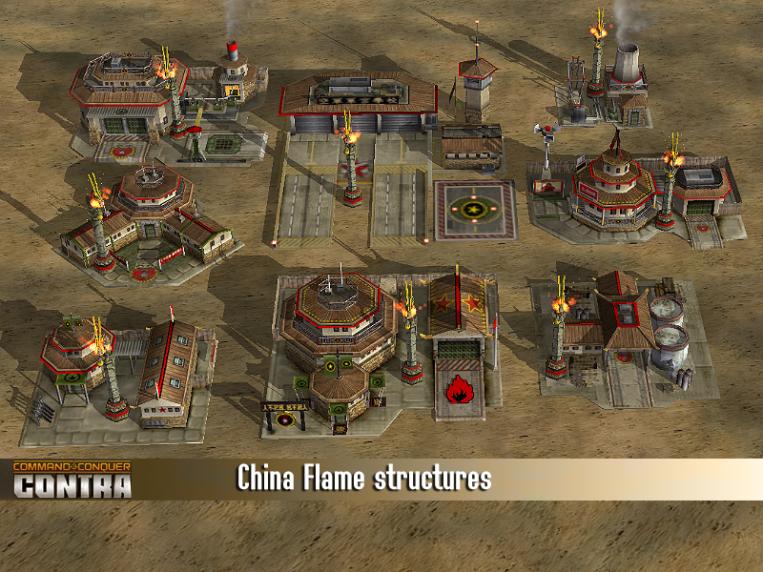 Please, feel free to use this download button and give yourself a treat!!
And special thanks to people who support us, their names are listed in Credits! It means a lot to us!


|
View Comments
|
»
Contra 009 work in progress - News Update 17
Posted December 14, 2020. By
predator_bg
.
---
Hello everyone!!!
A lot of time passed since our last update, but this doesn't mean we stopped working on the mod.
This year was weird and strange for all of us, we can agree on that.
Current situation caused unpredicted stuff in our real life, but still we try to find time and inspiration for continued work, even though most of the times it doesn't turn out as we wanted.
All of you were kind to us, supported us, and once again you voted for us and helped us achieve TOP 100 in MOTY.
This means a lot for us, and in order to return a favor we decided to post an article about progress.
Besides dozens of balance changes, there are also many visual updates and improvements.
Here are some of them....
- All USA factions (besides Cybernetic general) got new Machine gun defense structure. Patriot turret was universal defense, effective vs all types of units (infantry, vehicles, aircraft, structures) and often it was used and abused for early rush, in combination with cheap structures like Barracks with upgraded Security Systems. This often lead to early game deciding moments with building Patriot near enemy supplies (mostly vs China). In order to change this, and make game more fair, Patriot defense is now barely effective vs infantry units (such as RPG-s), and none of the USA structures benefit from Security Systems, except Supply Center (Security Systems damage is increased since it can be only used on Supply Center). New Machinegun defense is cheap and does not consume power. It is effective only vs. infantry and light vehicles. Can be upgraded with Flashbangs to stay effective in the later stages. Rushing with USA dozers is harder now, since you need to combine both Patriot and Machinegun defense to cover all targets.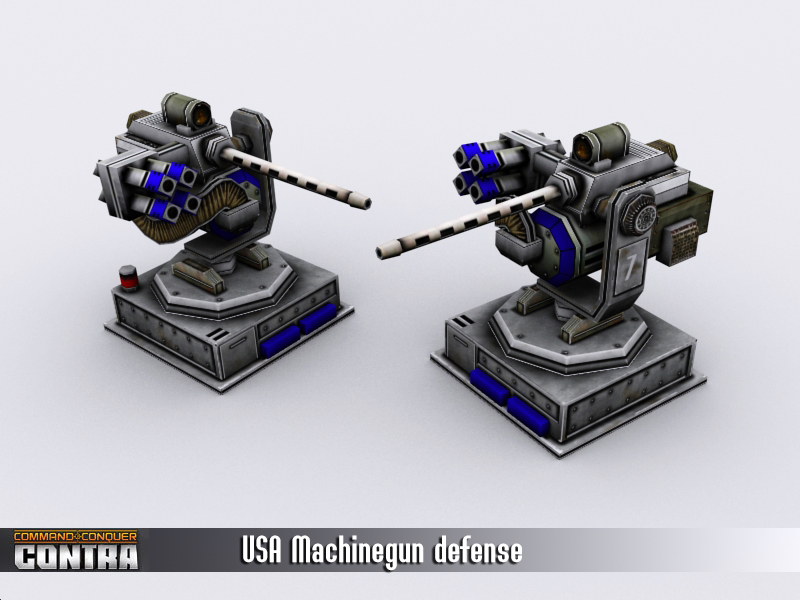 - Most of the visual changes were focused towards Laser general, and his unique way of playing. Unlike all other generals (except Cybernetic general), Laser general favors gaining experience the most. Basic laser powered units, with each veterancy state change too. We saw it in patch 2 already, but now laser colors are corrected, experience gaining through destroying targets is harder (currently you need 20% more EXP pts for rank up). Laser powered units do have help gaining veterancy, and it is through 3 generals powers. Veterancy generals powers are linked and accessible at rank1, rank3, and rank5 game phases by the cost of 2pts each.
Biggest change is their visual update, which helps you determine which laser damage currently they have (red, green, blue, violet).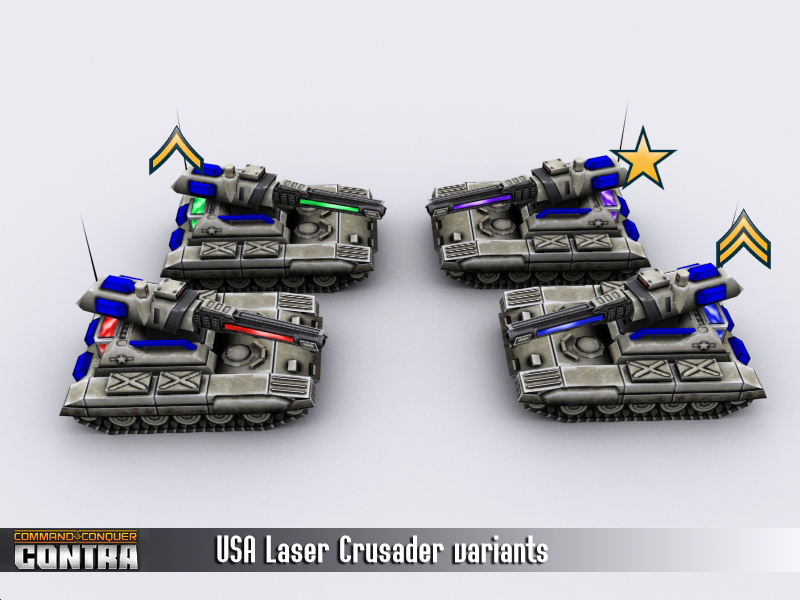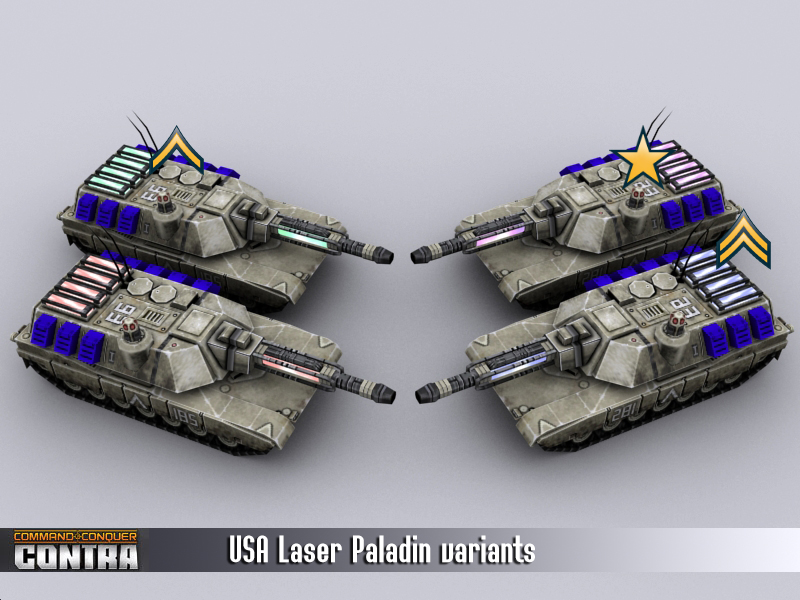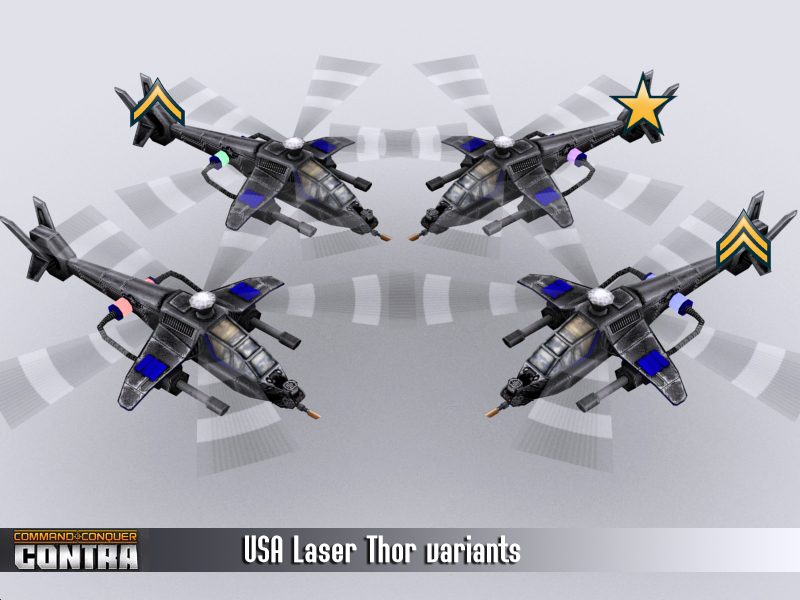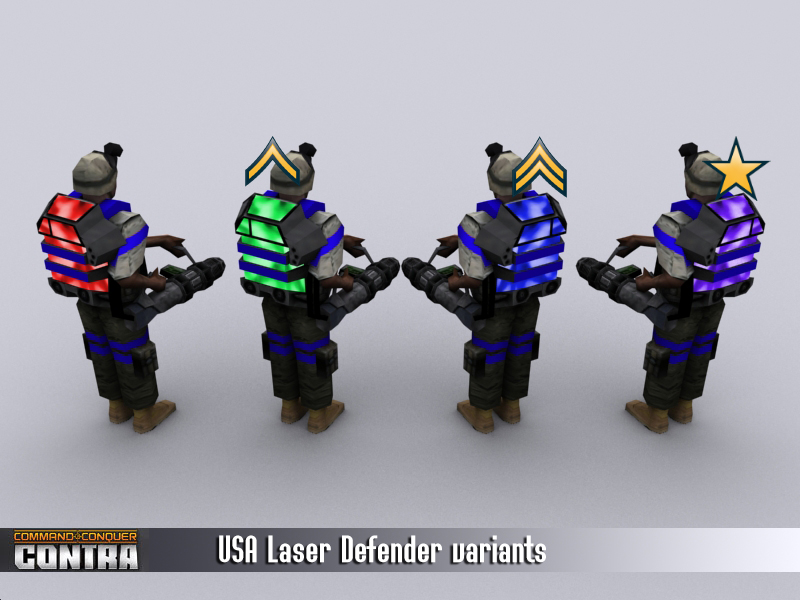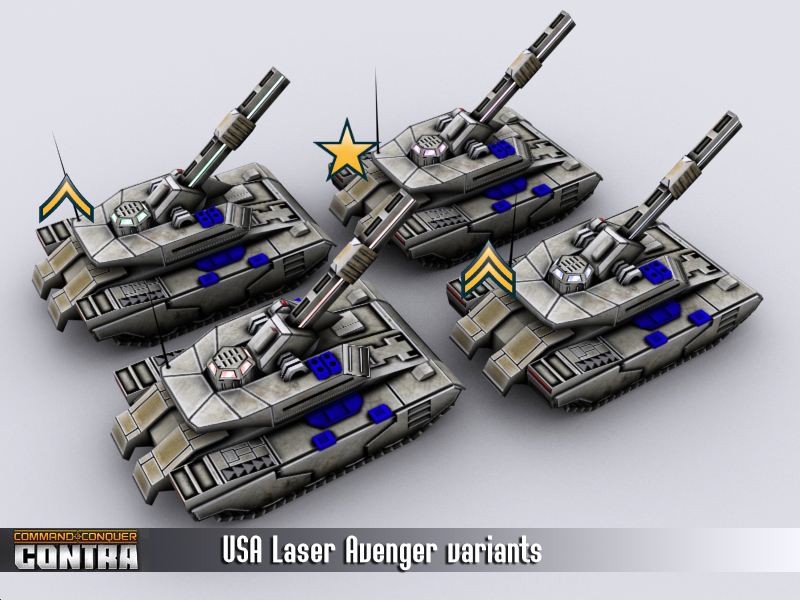 - Besides laser visuals, Microwave tank got a makeover too, since he was using Avenger's basis.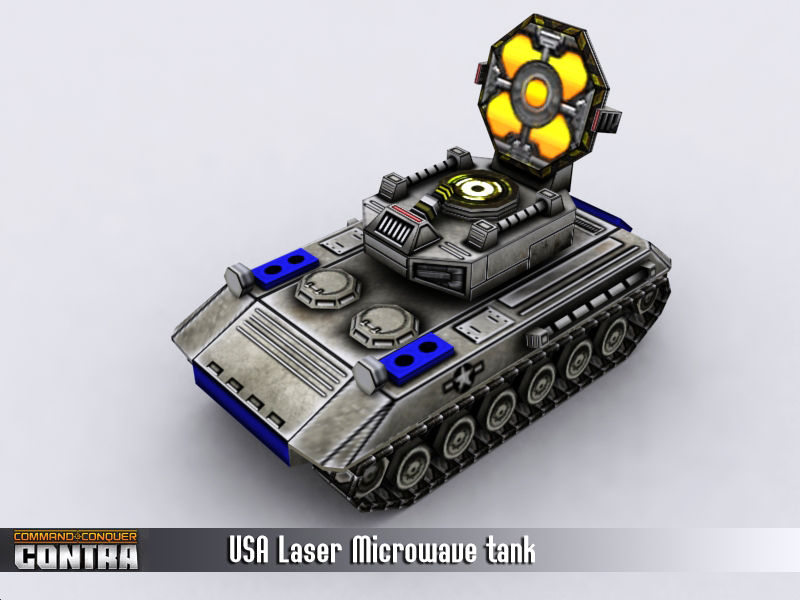 - Many changes were done to Super Weapon general as well. We are very proud of Saturn's makeover. Besides just a visual update, he has a new weapon. He fires a new beam which has huge potential to freeze targeted vehicles, so in general he fires Ice beam.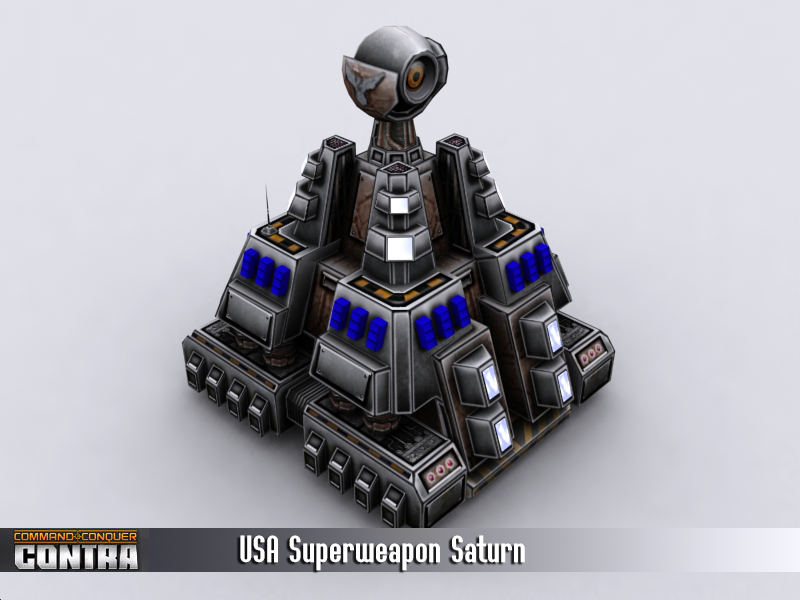 - But we didn't forget other generals too. China infantry general was mostly changed in order to be more balanced, and more appealing to player. Helix is replaced with new helicopter, Harbin.
Harbin has speed and cost of Thor, but health of Helix. His basic weapon is a small machine gun, but his main characteristic are the bunker slots (currently 2).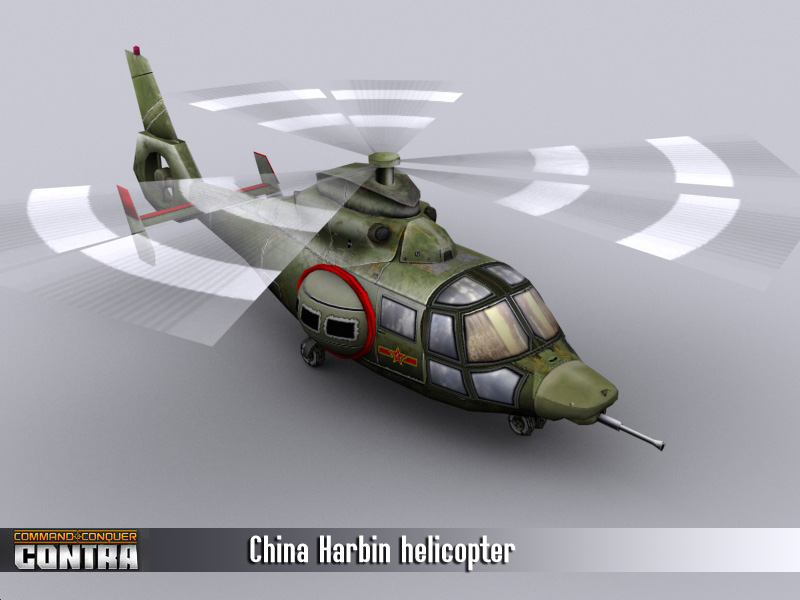 Some in-game screenshots. New Saturn: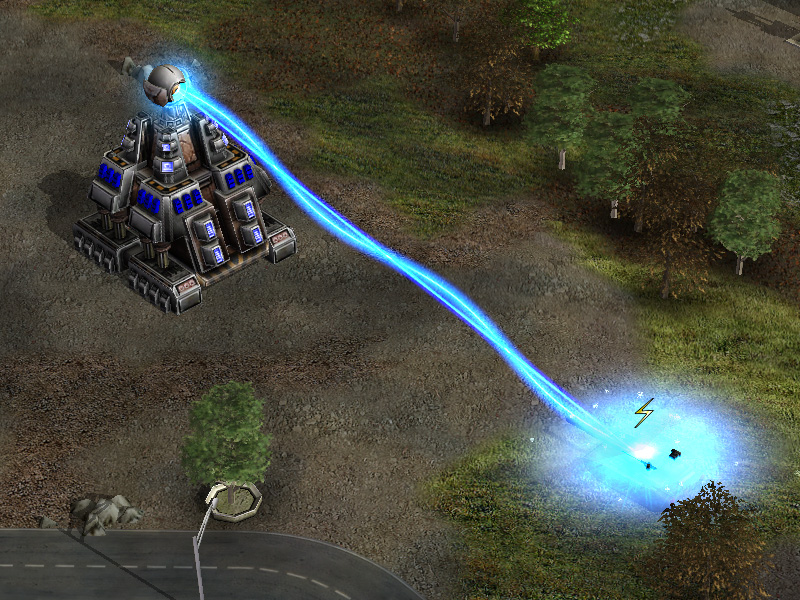 In the end of this update, we want to answer you on the most asked question:
"when patch 3 will be released"
The answer is:
"we are hoping, and we are targeting upcoming holidays (during or shortly after) to be perfect for patch 3 release"
There is still work left to be done, but we will try to make these holidays a bit better for all of us. We all deserved this.
If you still wish to support us, and help us, feel free. We are grateful, and supporters will be credited in upcoming release.

|
View Comments
|
»
Contra 009 work in progress - News Update 16
Posted May 3, 2020. By
predator_bg
.
---
Hi everyone!

Work on Patch 3 is almost on daily basis. From models, maps and audio to AI improvement, game balance and bug fixes.
You already know that our Patch version is more like a new Contra version, rather than patching missed things and errors.

Because of that, please have some more patience. Still, we need to show some work in progress.
Few new models and visual improvements.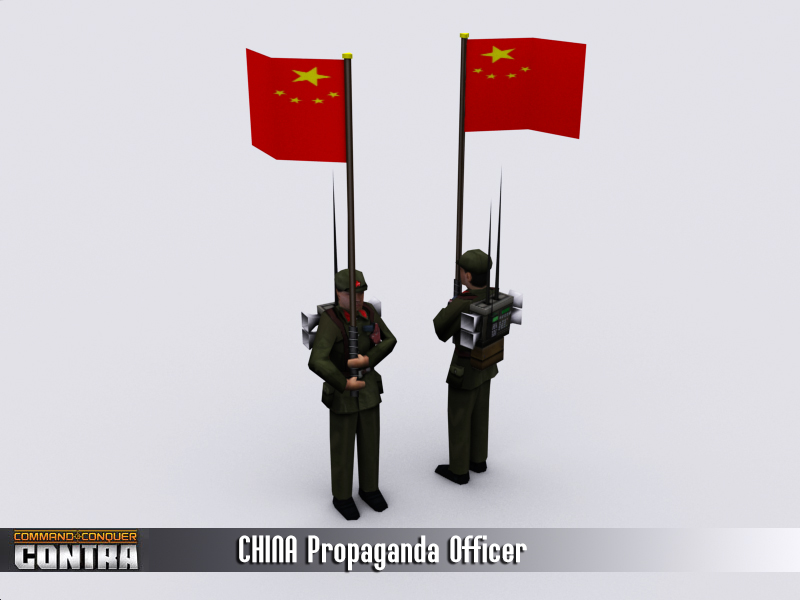 - New addition to China Infantry general is "Propaganda Officer". Lately, we are focusing on Infantry general's play style. We want to improve infantry hordes and encourage player to use infantry units, rather than relying only on Troop Crawlers. Troop Crawlers are still there, and it is good to have them as support and transport units, but soldiers are what you need if you play Infantry General. Propaganda Officer is available at rank 1 and as his name tells, he grants propaganda effect to your units.
Voices are amazingly done by our Voice Actor Matthew Vanston.



Let's continue with models!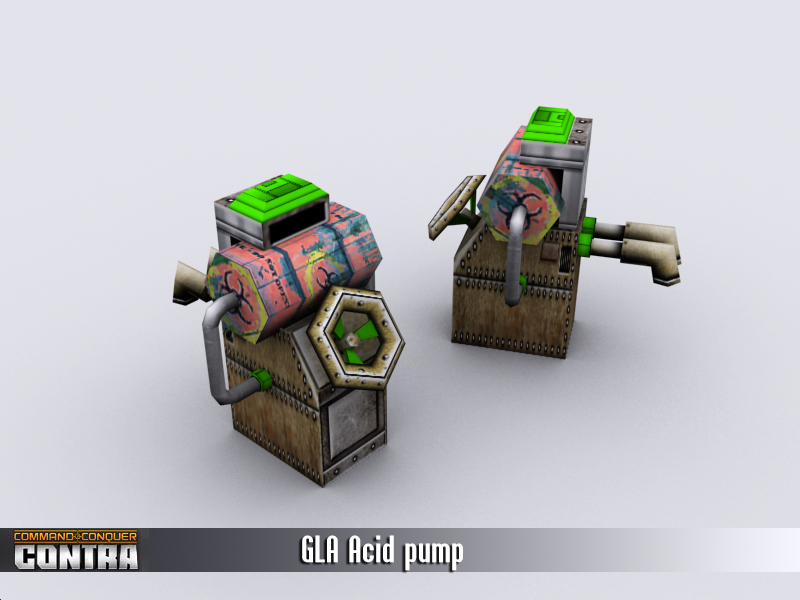 - GLA Chemical general "Acid Pump" is now a separate structure. So, now you can build both Toxin and Acid Pump for your defenses. This means that they finally have an automatic fire mode.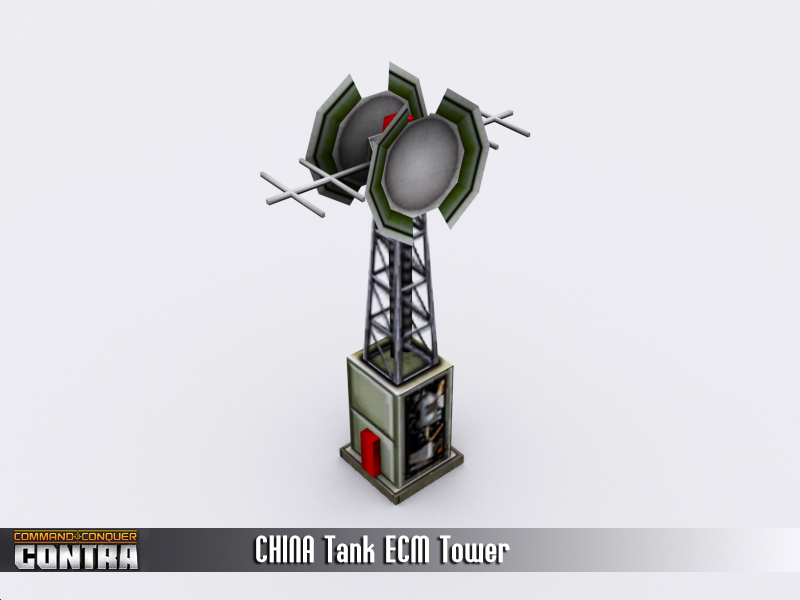 - China Tank General's early gameplay was sometimes unfair, because of the ECM tank unit. When you are Airforce general, or Cybernetic, or most of your arsenal is rocket-based, and Tank General has 2-3 ECM tanks in horde, it was extremely hard to do some damage and to get rid of them. That's why we removed ECM tank from early game and added "ECM tower", which can be built almost as easy as Propaganda tower. They have a bigger deflection radius than the ECM tank had last time. You can protect your base from fast attacks or advance with them slowly.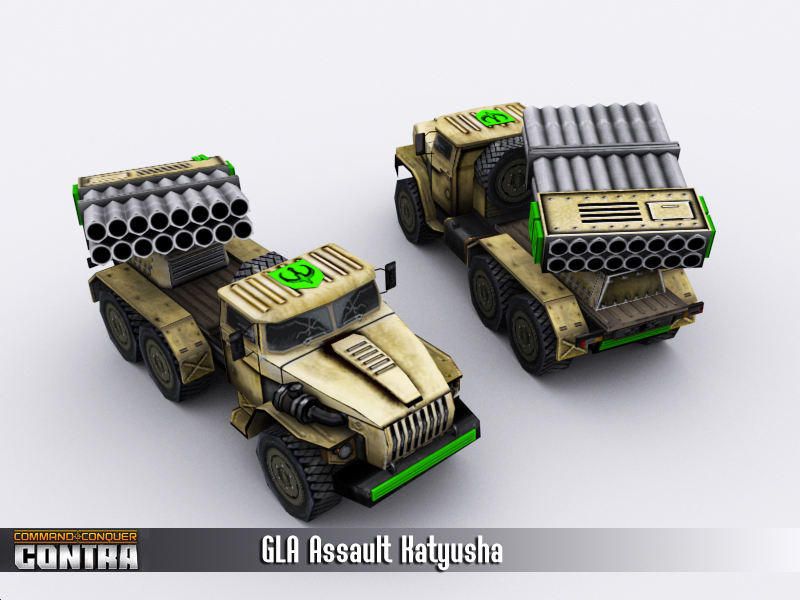 - Most of the units got redesigned parts, which improve their visuals. Showing all of them would be too much for this update, but here is the one that is easily recognized. "Katyusha" got remodeled back part, as well as turret, which can now pitch up and down. We've done our best to rebalance this unit as well.

- Another thing which we are working on, are small details for structures. Meaning, each general's structures which are shared with other generals, got unique objects as details. Most of those objects can be seen on Command Centers in previous versions. So far, GLA structures are made. Assault has scrap parts, rockets and barrels. Chemical has pipes, headers and chemical barrels. Demolition has explosive barrels and C4 charges. Stealth has surveillance equipment installed.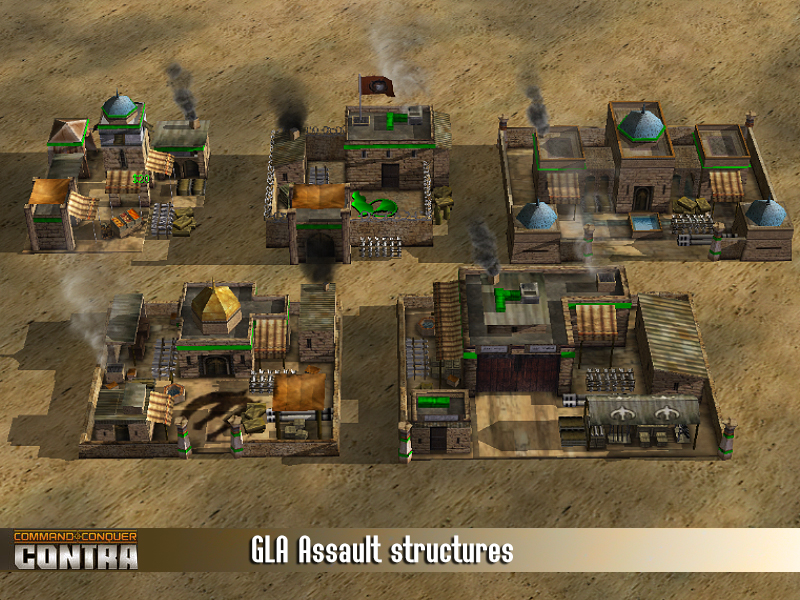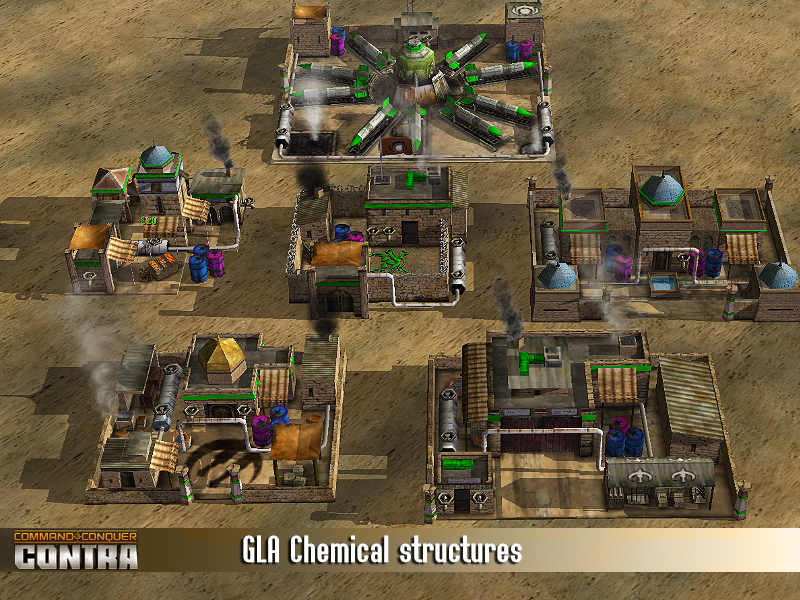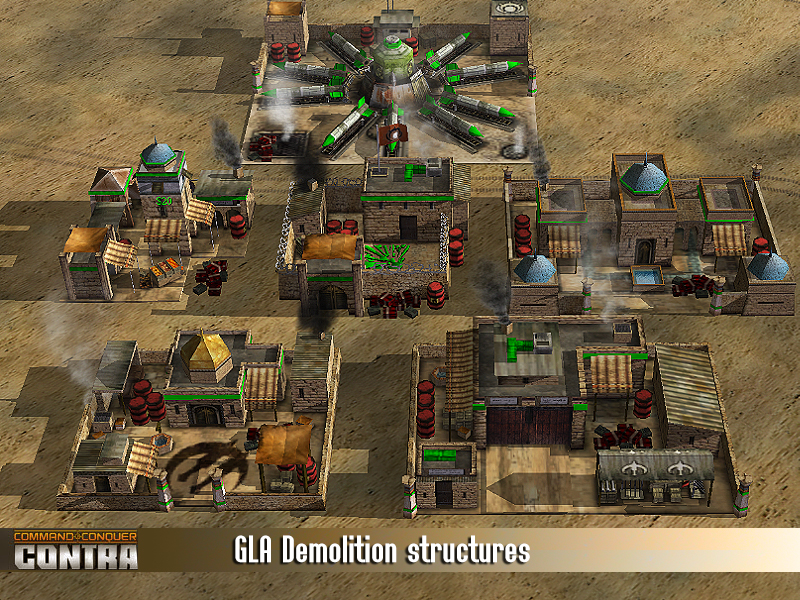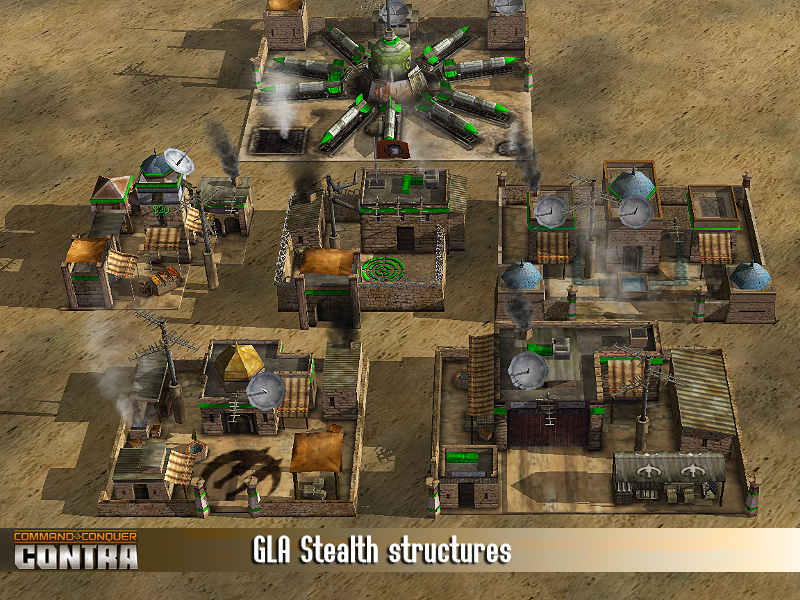 - And another big improvement is lately done by EmperorAlexander.
He is our new member and he works on particle effects. By now, he has done tons of new effects, but here is just a sneak peak into some of them.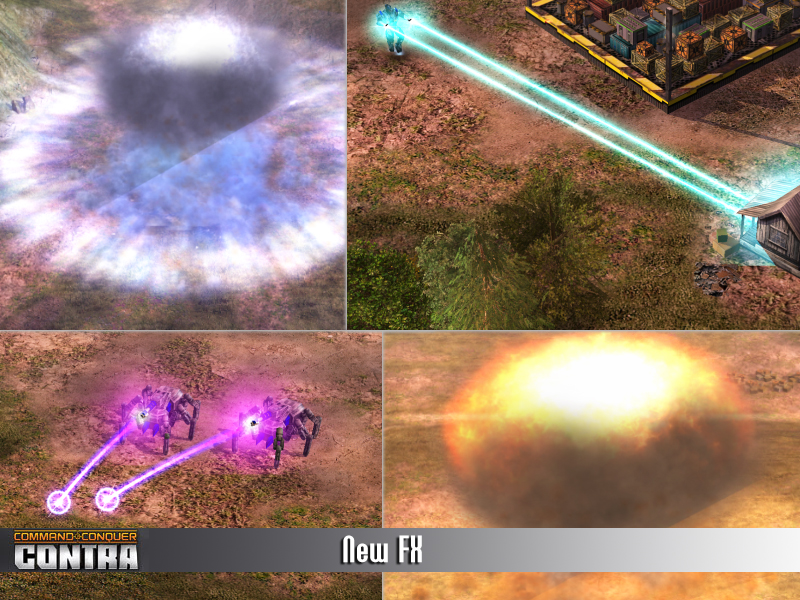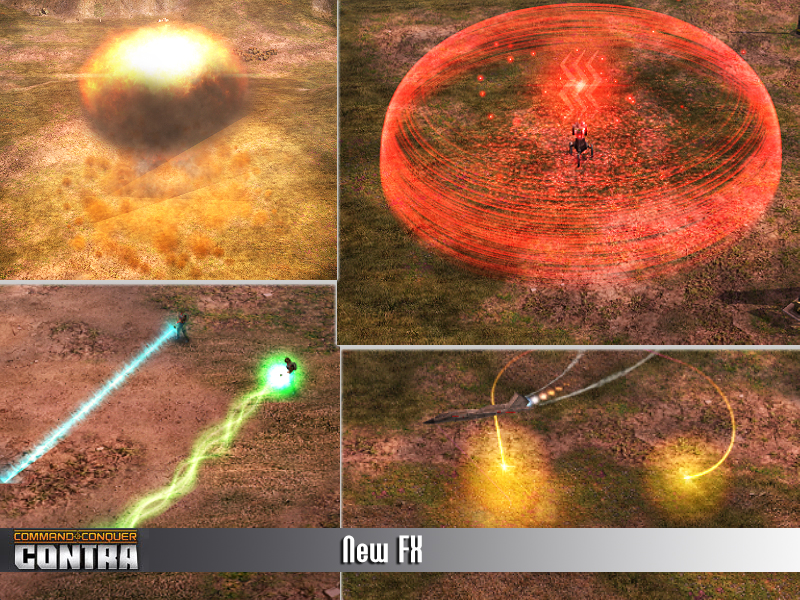 **** At the very end, we need to say big thanks to people who supported us through donations. We will publish their nicknames in a new section in the mod credits with the next release. If you want, you can also support us and help with our development. ****

|
View Comments
|
»
Contra 009 FINAL PATCH 2 released!
Posted December 17, 2019. By
predator_bg
.
---
Just before Holidays, we decided to finally release long awaited Patch 2 for Contra 009 FINAL!

We know that patch 1 was long time ago and you expected patch 2 earlier this year, but we packed so many things into this that at the end it was worth waiting.

This Holiday special bundle includes: reported bug fixes, new artwork, new voices, new general's powers, fixed AI, new maps, new launcher and new VPN!

- So, let's start with bug fixes and in-game changes!
To avoid huge list in this important article, you can read full changelog by following this link: https://www.moddb.co...angelog-part-21

- Just some of the new artwork!
A lot of in game stuff is changed, from units, effects, to game menu interface. Most of the beautiful stuff you will experience while playing.
However, as usual, here are some new renders of redesigns: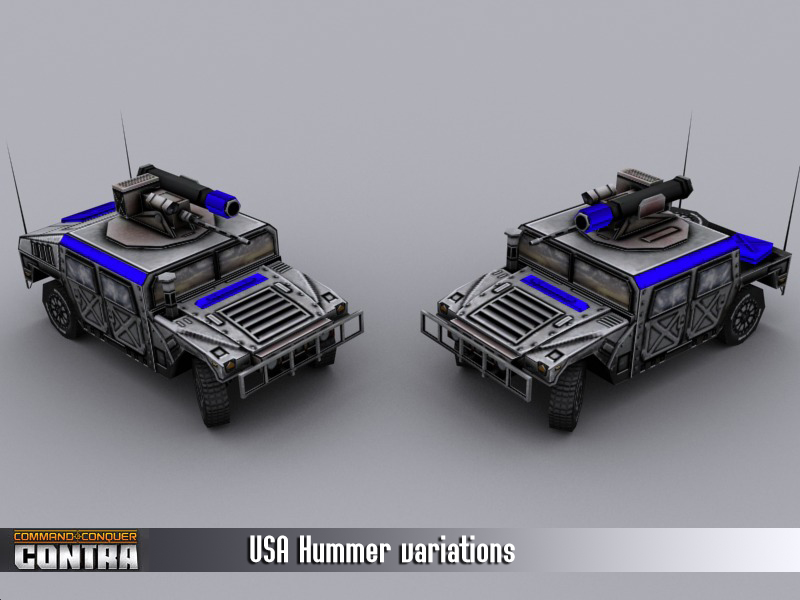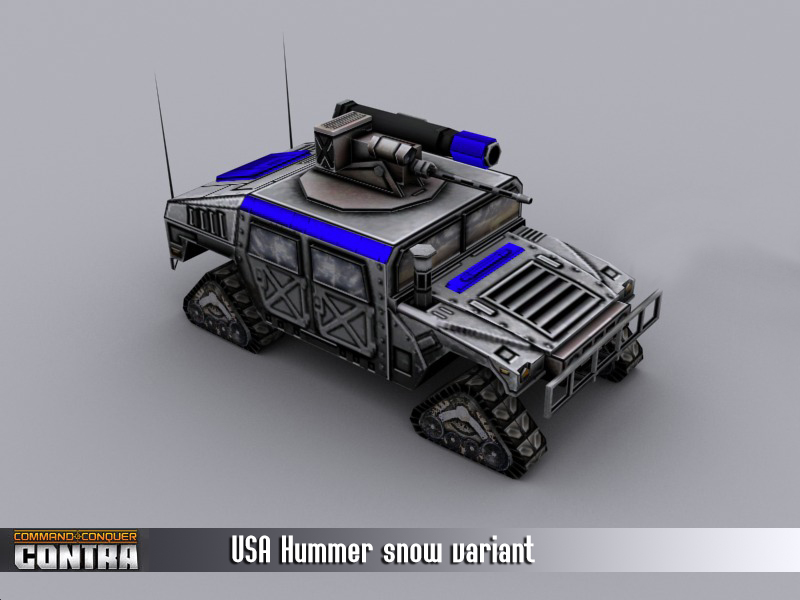 As seen in official videos, Valanx is replaced with Hummer variants. There are 2 random variants with snow version.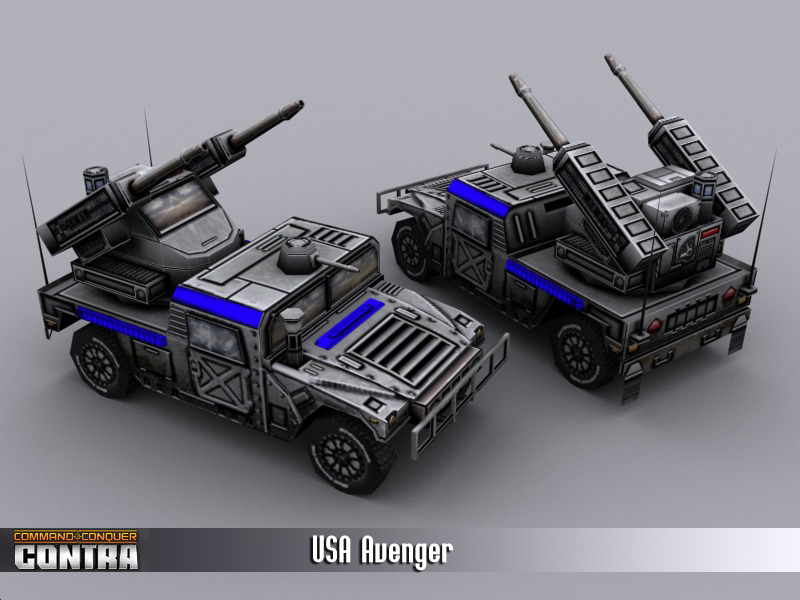 Super Weapon and Air Force generals use Hummer-based Avenger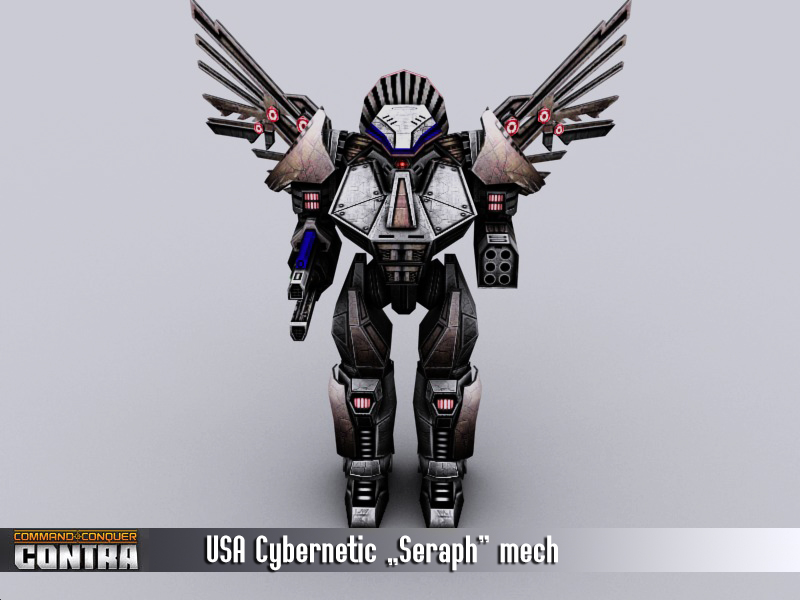 Old Seraph mech is redesigned with concept similar to other angel type units!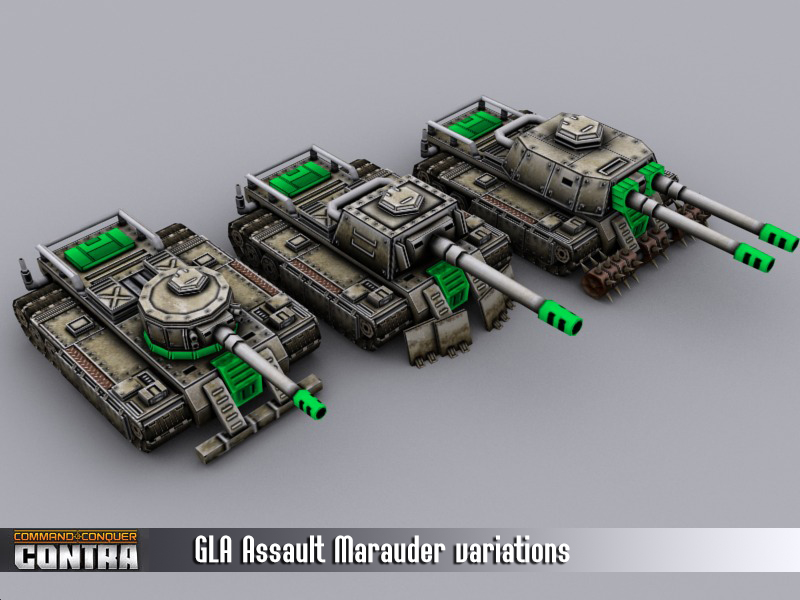 GLA Marauder tank is now using its original Zero Hour concept, but much more detailed and improved!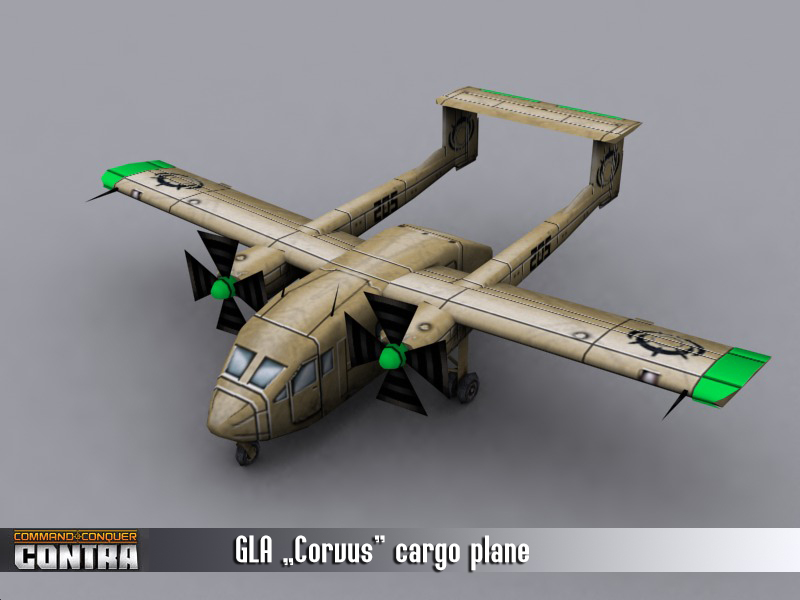 Most of the "spawn" generals powers in game are balanced in such way, that they are dropped by planes. This change affected GLA and for this purpose small cargo plane has been made. Corvus will drop demo traps, acid, toxins and tunnel drillers.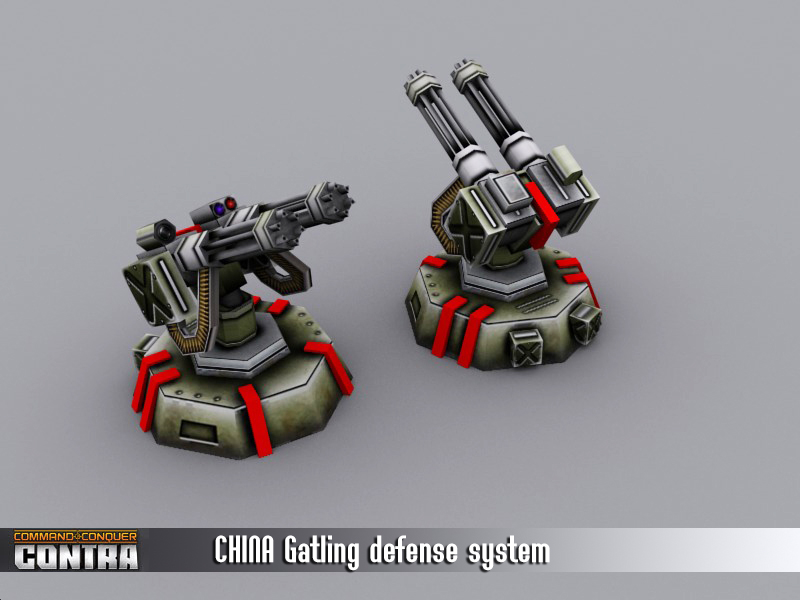 China Gatling defense is also improved visually!
- Contra is richer by one new dimension now, thanks to voice actors and amazing job they did for so many units: Matthew Vanston (1, 2), Trench Dog, Forrest McGilvray, Connor Miranda (1), Cari Scholtens, TryToEpic (1, 2), Kinsmarck (1), Greekas, Caroline Sawatzki, Maelstrom (1)

- Contra Launcher has been reworked to support a new VPN. Once again you have everything you need with one control panel: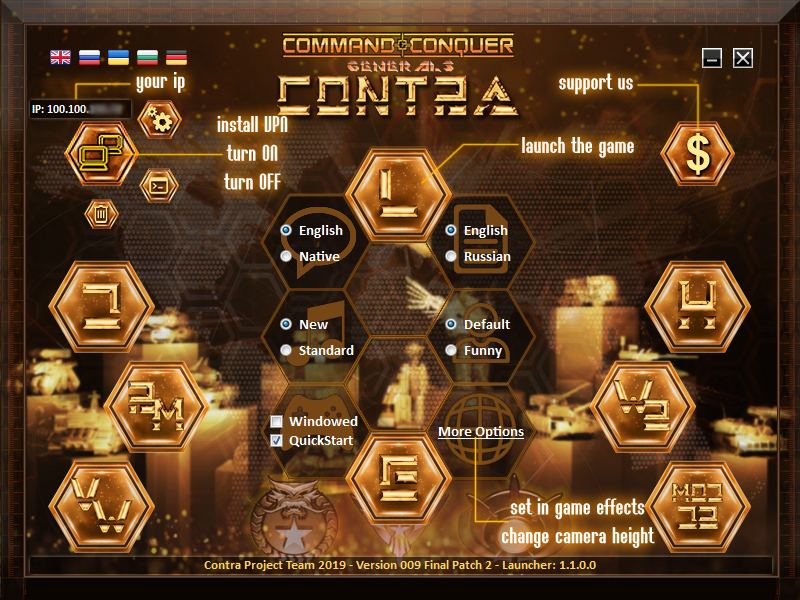 - Now you can also support us and our work. Contra is larger than before, and includes many collaborators and skilled people who share and sacrifice their free time in order to expand and improve this mod. All the support will be a reward used for further projects!


At the end, once again we want to say thanks to all the good people who voted for Contra in the last MOTY.
It's always good to see that hard work is appreciated, and so it can be this year too.
Contra is already in second round and we are happy for this, but feel free to vote once again and help us score better!
https://www.moddb.co...op100#vote10422
|
View Comments
|
»
Contra 009 FINAL PATCH 1 released!
Posted February 24, 2019. By
predator_bg
.
---
Welcome to another Contra update! Patch 1 for 009 Final has just been released! Changelog:
https://forums.revor...opic/?p=1097535

|
View Comments
|
»
Contra 009 FINAL - Official trailer
Posted December 11, 2018. By
predator_bg
.
---
Dear all!!!

We want to thank you for voting for Contra in this year's MOTY.

Thanks to you, again, we are in second round. As a part of gratitude we made a short, but very tasty trailer for the stuff you can expect very, VERY soon
We hope you enjoy it, but also, vote once again for Contra so we can get even better results in MOTY second round! http://www.moddb.com/mods/contra

See you soon!
|
View Comments
|
»
Contra 009 work in progress - News Update 15
Posted September 16, 2018. By
predator_bg
.
---
Hi guys!! (and girls, I hope there is at least one girl playing Contra mod)

Autumn did not officially start yet, but sometimes we like to be super crazy and break the rules.
So even before Autumn we are bringing you Autumn update (how crazy is that)!?

As we are heading towards Contra 009 FINAL release, we are polishing and improving existing units, AI behavior and gameplay.

In this update we will show you some of the updated units. Of course, besides just units renders, there are a lot of "touches" which you will notice when actually playing.
Once again, we are doing this all for you, so please be a bit more patient.

- First one is updated Microwave Tank for Laser general. Finally that old tuna fish can is replaced with better model. Yes, he is using Avenger bottom, and no, not every tank has to be super unique.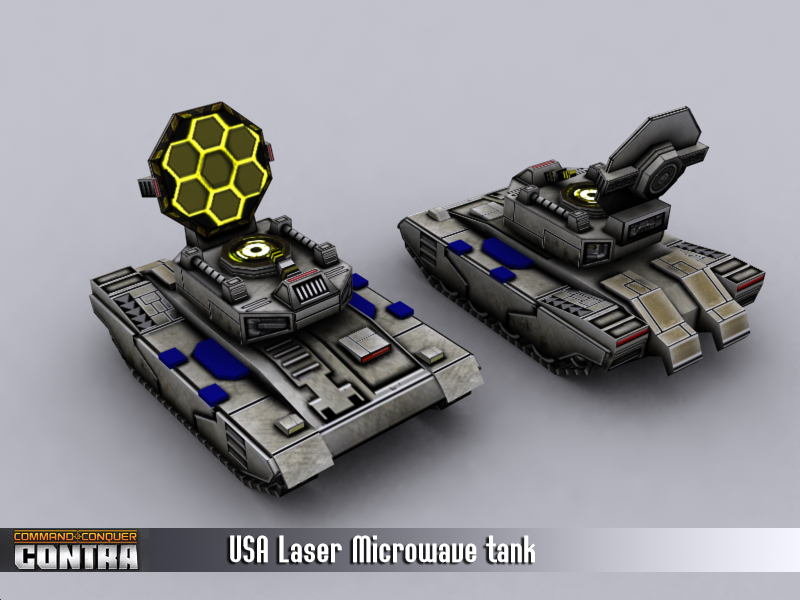 - "Gate guardians" are cool guardian drones made only for Seraph mech. Due to game balance Seraph`s shield is removed. New drones are made by default, you don't have to spend money for them. They protect Seraph in pair. Repairing him while standing above him, destroying missiles with lasers, and shooting on both infantry and vehicles. Drones cannot be killed (nor targeted) until Seraph dies.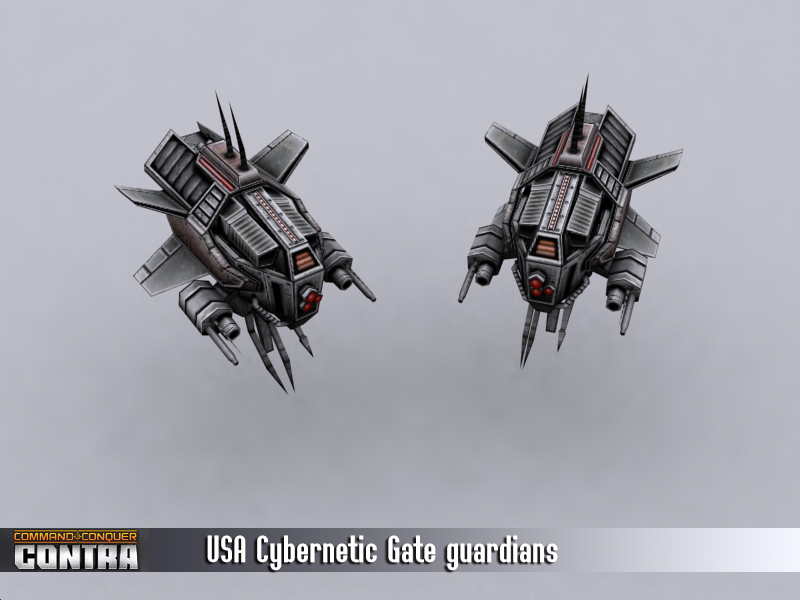 - Cybernetic general Factory has been remade because of few reasons. First one is, old model had really bad UVW map where some parts of texture were stretched. When exported, few animation frames were cut (no one actually noticed and I never told anyone). And texture style didn't fit other USA structures. So now, you can see brand new factory which fits Ironhand style. Factory doesn't have dining room, sleeping room and other rooms like barracks, instead, there is a butchery needed for assembly of human and robot parts. Where are human parts from? Well, don't ask me. Ask general Ironhand who claims there are less homeless on the streets since he runs his program.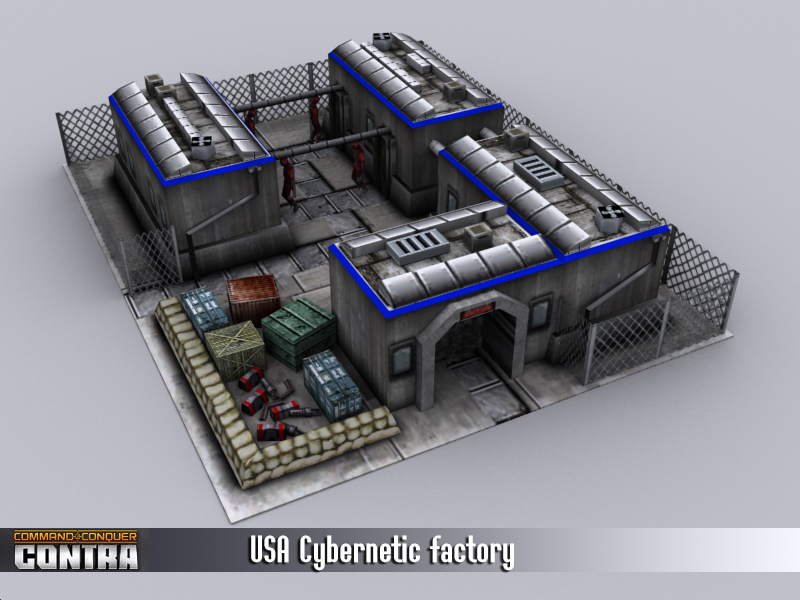 - Another USA structure makeover is given to Airforce generals Superweapon. Again, bad UVW map and texture design, but also lack of night version led to improvement. Few more details added, looks neat in game.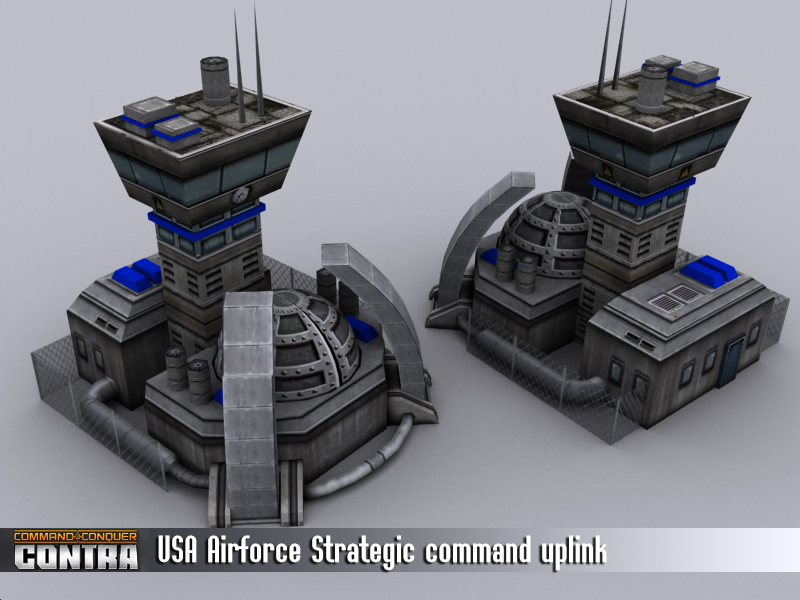 - China also got few things. Zhu Rong or Thermobaric mortar, got improved cannon and few details attached. Once you play general Bao challenge, you will know you are in Hell.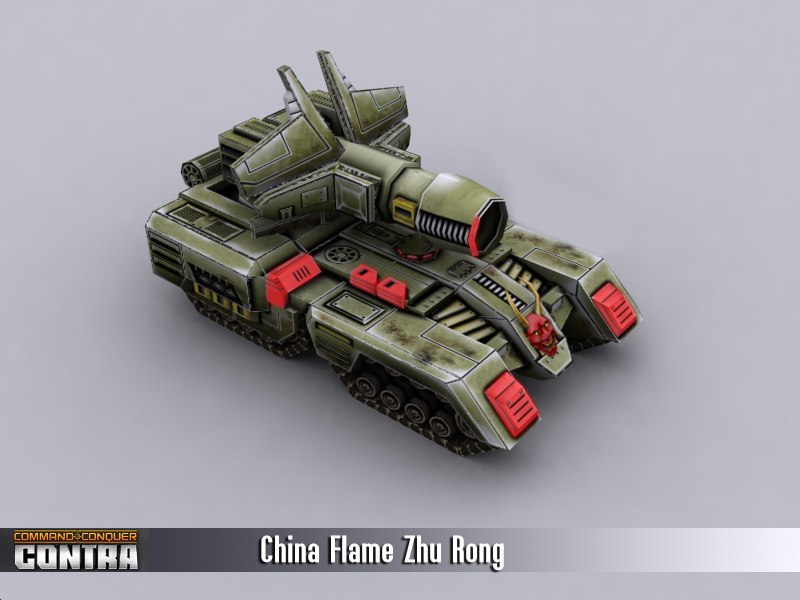 - Contra doesn't have many public models in game. In fact, there is one only. It is famous Dragon Tank. I couldn't find a better concept for this true masterpiece, in order to make this tank unique for Contra. At the end, it would be just a slight variant of this unit. So, Dragon tank got his texture and UVW map improved to fit all other China tanks in Contra mod.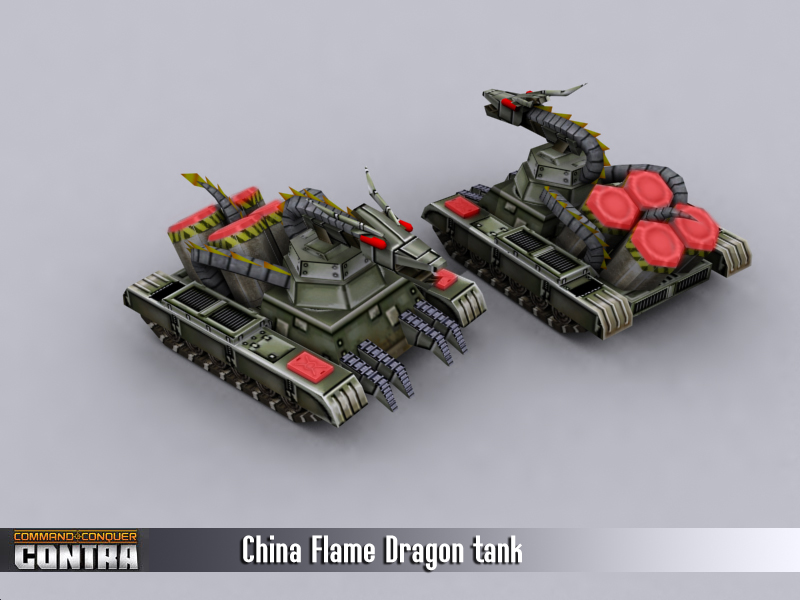 - And at last, Tank general Overlord Headquarters got improved structure. We will all agree that old one was lacking details.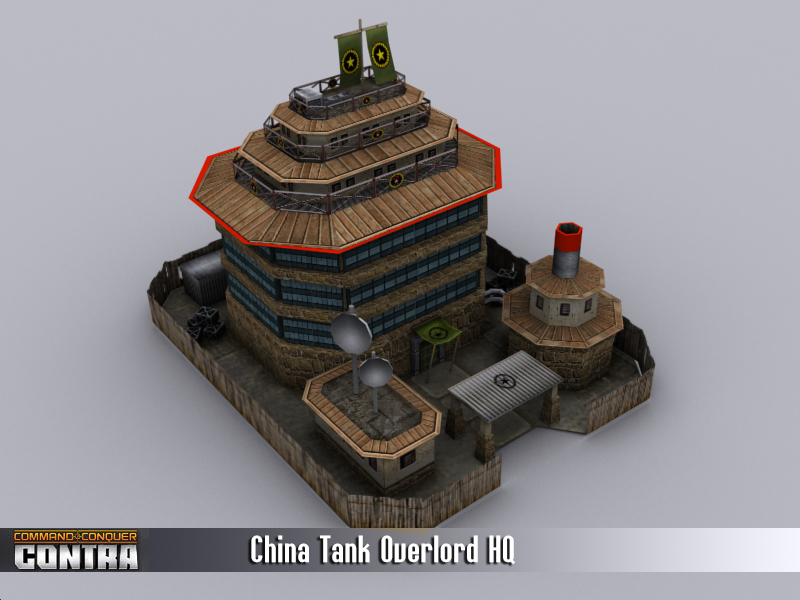 And, at the end, as usual...

Please don't ask for release date as we don't know exactly. Yes, we are doing our best to release 009 FINAL this year. Both you and we are waiting for this very long. But keep in mind that we are trying not to release a version filled with bugs, or with broken gameplay where one general rules over others. We are aware that we won't be able to achieve a perfect balance, but we assure you that it will be much better than before. That's hard when you have so many unique units.

Anyway, thank you for patience, and thank you for support. It means a lot!
|
View Comments
|
»
Contra 009 work in progress - News Update 14
Posted July 8, 2018. By
predator_bg
.
---
Greetings everyone!

A short video presentation of a new super unit for Cybernetic general, "Widow".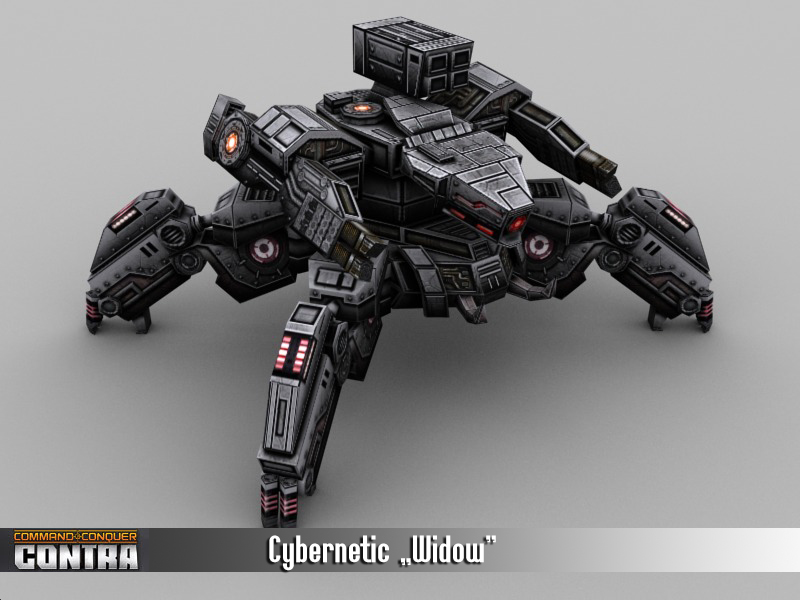 In case you didn't notice yet on Contra 009 stream videos, Cybernetic general got his spider units back, as an option to counter fast and deadly GLA attacks.

This means, when you reach rank3 and build Strategy Center, you will have to decide whether you will join the cult of Spiders or follow the path of Angels.

- if you select Angels, you will be able to build rank3 Angel units, together with their rank5 leader "Seraph" mech.

- if you chose Spiders, you will be able to use rank3 Spider units, with their mother "Widow" as rank 5 super unit.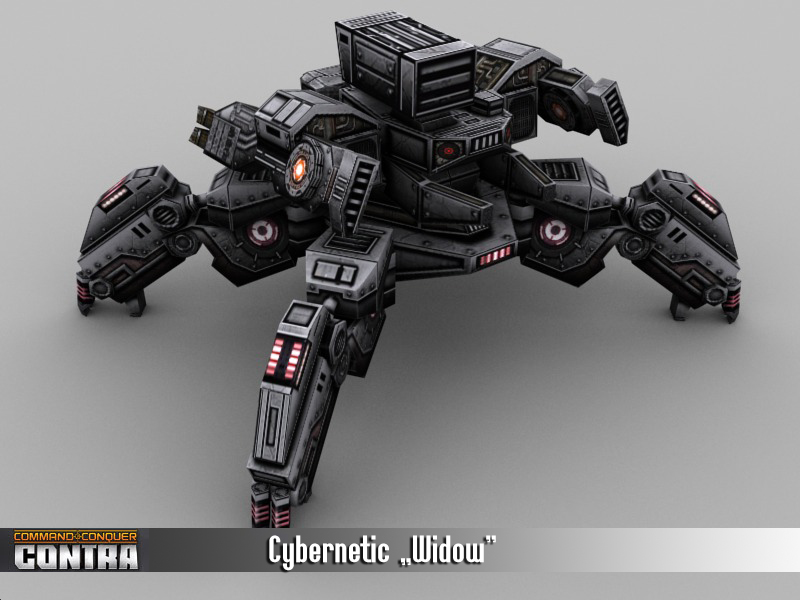 Many of you will ask what is the difference and which one to use!? Well, it depends on your twisted mind.


- But it also depends on the type of the opponent you are facing. If you are fighting China, or USA, most likely you will go with Angels because of their firepower and armor. Angels are strong, but also slow and cost more.
- If you are fighting any of GLA generals, you will probably want to go with Spiders, as Spiders are fast and weak, but also cost less.

Depending on which option you chose, you will be able to build one Super unit, either "Seraph" or "Widow".

"Widow" is fast long range Super unit, armed with prototype of dual rail gun cannons, missile system effective vs ground and air targets, and is able to deploy spider mines for cheap price (used by repair droid in the past).

Please note that final version of Widow may differ from what you saw in video, as things are still being tested, fixed and repaired.

Widow is voiced by streamer MaelstromX103

Follow our ModDB page for more updates, as they are coming soon!

Join us on Discord, arrange games with other people, check our internal games and more.

We are a few steps away from new release, be patient!
|
View Comments
|