»
Contra 009 work in progress - News Update 15
Posted September 16, 2018. By
predator_bg
.
---
Hi guys!! (and girls, I hope there is at least one girl playing Contra mod)

Autumn did not officially start yet, but sometimes we like to be super crazy and break the rules.
So even before Autumn we are bringing you Autumn update (how crazy is that)!?

As we are heading towards Contra 009 FINAL release, we are polishing and improving existing units, AI behavior and gameplay.

In this update we will show you some of the updated units. Of course, besides just units renders, there are a lot of "touches" which you will notice when actually playing.
Once again, we are doing this all for you, so please be a bit more patient.

- First one is updated Microwave Tank for Laser general. Finally that old tuna fish can is replaced with better model. Yes, he is using Avenger bottom, and no, not every tank has to be super unique.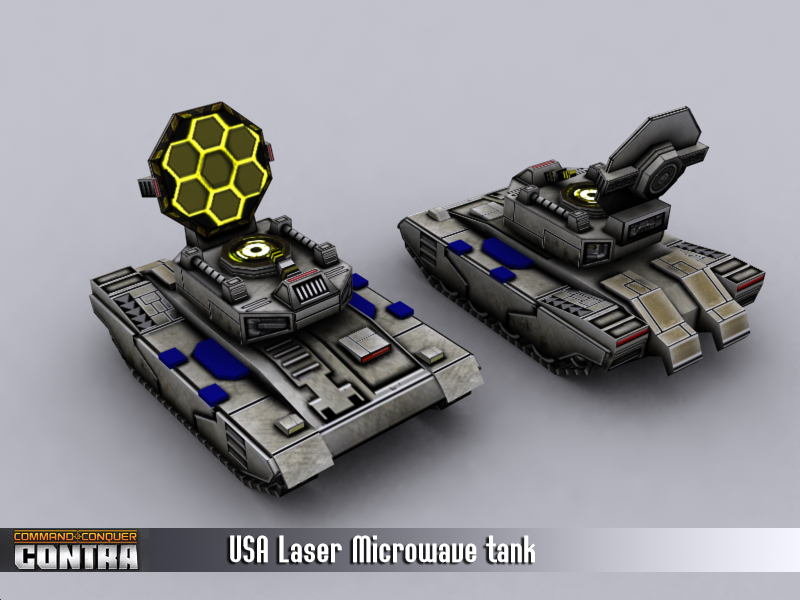 - "Gate guardians" are cool guardian drones made only for Seraph mech. Due to game balance Seraph`s shield is removed. New drones are made by default, you don't have to spend money for them. They protect Seraph in pair. Repairing him while standing above him, destroying missiles with lasers, and shooting on both infantry and vehicles. Drones cannot be killed (nor targeted) until Seraph dies.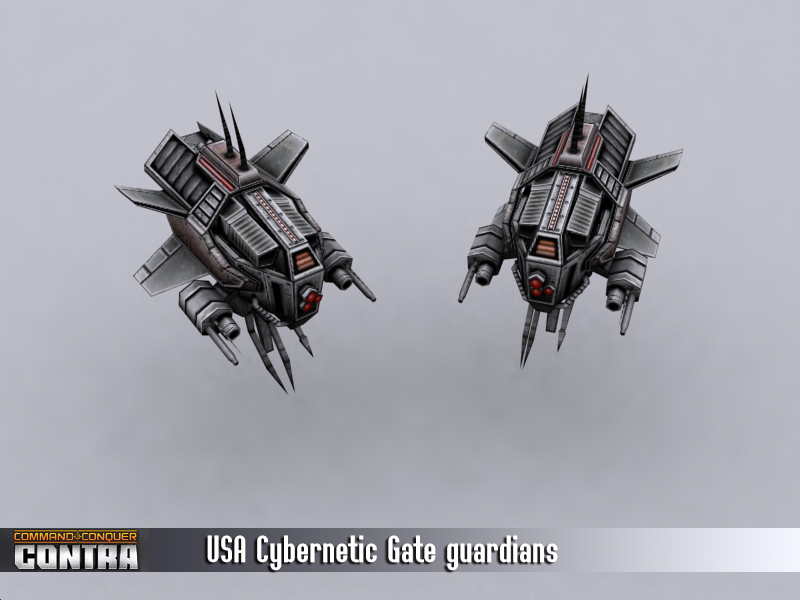 - Cybernetic general Factory has been remade because of few reasons. First one is, old model had really bad UVW map where some parts of texture were stretched. When exported, few animation frames were cut (no one actually noticed and I never told anyone). And texture style didn't fit other USA structures. So now, you can see brand new factory which fits Ironhand style. Factory doesn't have dining room, sleeping room and other rooms like barracks, instead, there is a butchery needed for assembly of human and robot parts. Where are human parts from? Well, don't ask me. Ask general Ironhand who claims there are less homeless on the streets since he runs his program.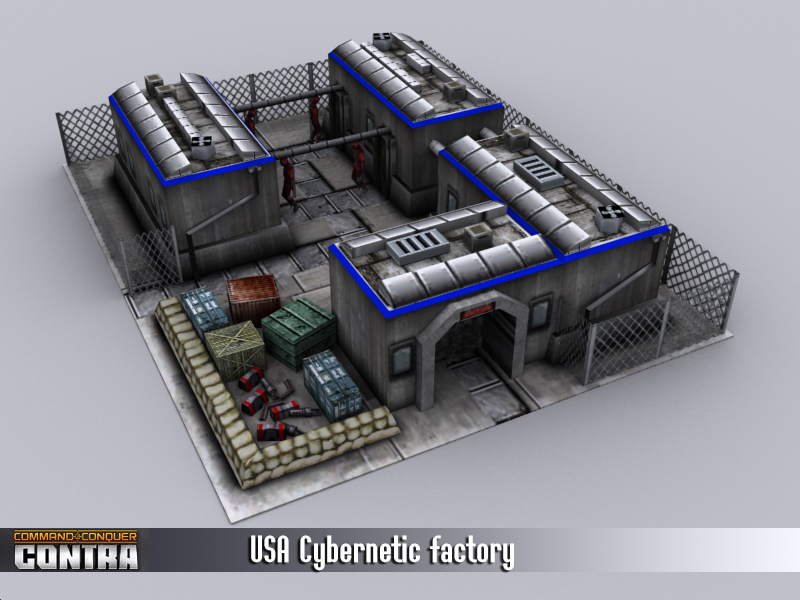 - Another USA structure makeover is given to Airforce generals Superweapon. Again, bad UVW map and texture design, but also lack of night version led to improvement. Few more details added, looks neat in game.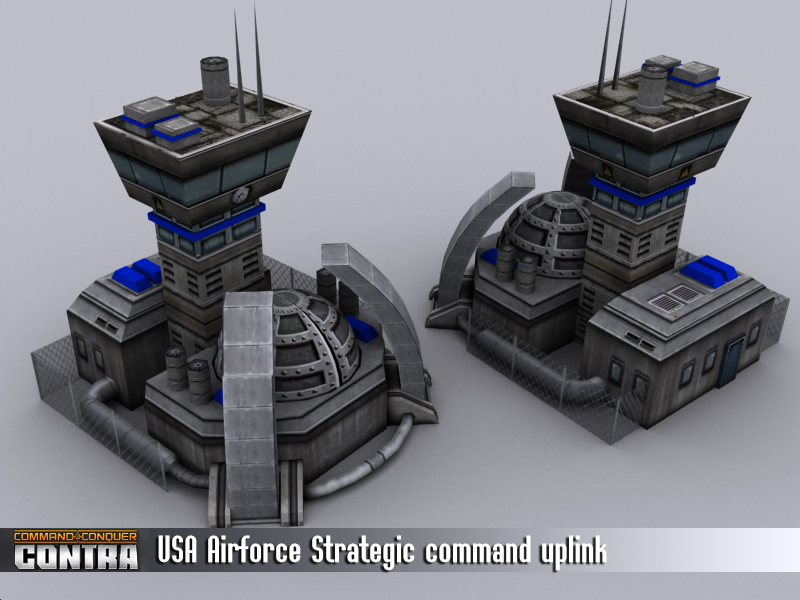 - China also got few things. Zhu Rong or Thermobaric mortar, got improved cannon and few details attached. Once you play general Bao challenge, you will know you are in Hell.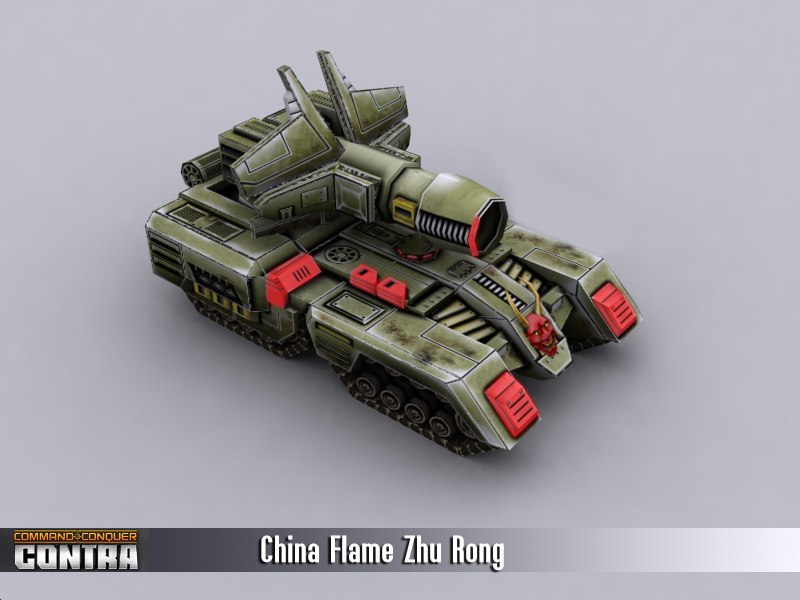 - Contra doesn't have many public models in game. In fact, there is one only. It is famous Dragon Tank. I couldn't find a better concept for this true masterpiece, in order to make this tank unique for Contra. At the end, it would be just a slight variant of this unit. So, Dragon tank got his texture and UVW map improved to fit all other China tanks in Contra mod.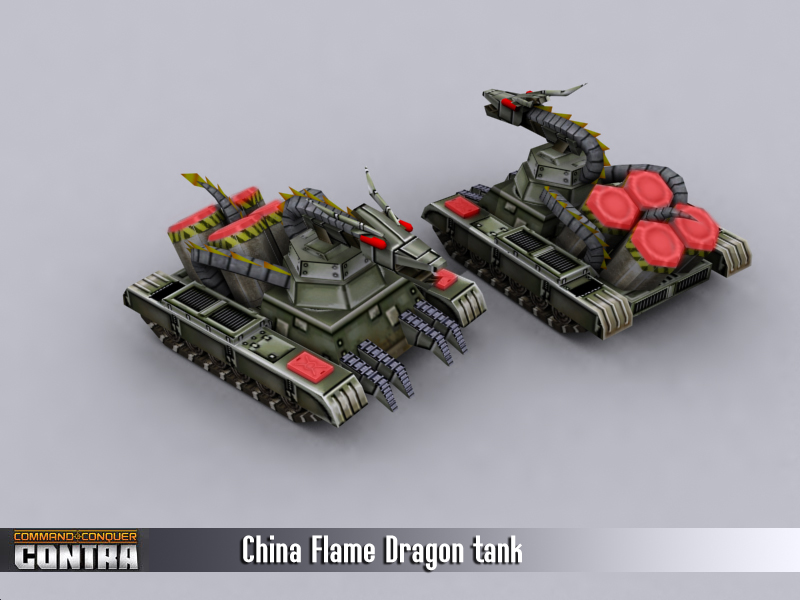 - And at last, Tank general Overlord Headquarters got improved structure. We will all agree that old one was lacking details.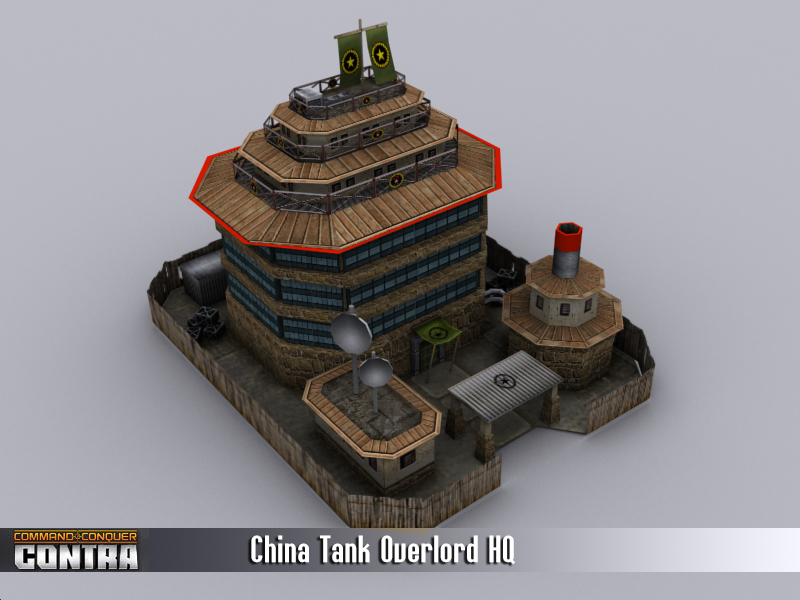 And, at the end, as usual...

Please don't ask for release date as we don't know exactly. Yes, we are doing our best to release 009 FINAL this year. Both you and we are waiting for this very long. But keep in mind that we are trying not to release a version filled with bugs, or with broken gameplay where one general rules over others. We are aware that we won't be able to achieve a perfect balance, but we assure you that it will be much better than before. That's hard when you have so many unique units.

Anyway, thank you for patience, and thank you for support. It means a lot!
|
View Comments
|
»
Contra 009 work in progress - News Update 14
Posted July 8, 2018. By
predator_bg
.
---
Greetings everyone!

A short video presentation of a new super unit for Cybernetic general, "Widow".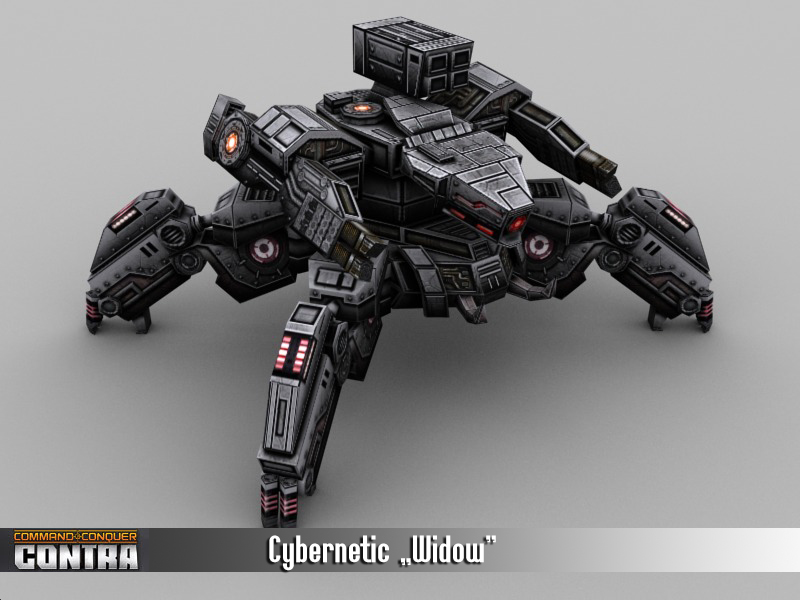 In case you didn't notice yet on Contra 009 stream videos, Cybernetic general got his spider units back, as an option to counter fast and deadly GLA attacks.

This means, when you reach rank3 and build Strategy Center, you will have to decide whether you will join the cult of Spiders or follow the path of Angels.

- if you select Angels, you will be able to build rank3 Angel units, together with their rank5 leader "Seraph" mech.

- if you chose Spiders, you will be able to use rank3 Spider units, with their mother "Widow" as rank 5 super unit.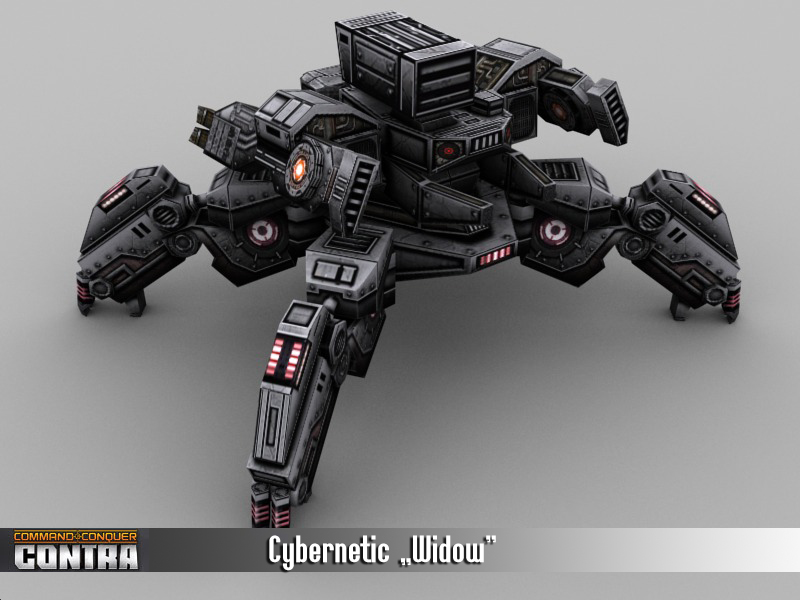 Many of you will ask what is the difference and which one to use!? Well, it depends on your twisted mind.


- But it also depends on the type of the opponent you are facing. If you are fighting China, or USA, most likely you will go with Angels because of their firepower and armor. Angels are strong, but also slow and cost more.
- If you are fighting any of GLA generals, you will probably want to go with Spiders, as Spiders are fast and weak, but also cost less.

Depending on which option you chose, you will be able to build one Super unit, either "Seraph" or "Widow".

"Widow" is fast long range Super unit, armed with prototype of dual rail gun cannons, missile system effective vs ground and air targets, and is able to deploy spider mines for cheap price (used by repair droid in the past).

Please note that final version of Widow may differ from what you saw in video, as things are still being tested, fixed and repaired.

Widow is voiced by streamer MaelstromX103

Follow our ModDB page for more updates, as they are coming soon!

Join us on Discord, arrange games with other people, check our internal games and more.

We are a few steps away from new release, be patient!
|
View Comments
|
»
Contra 009 work in progress - Update 13
Posted April 8, 2018. By
predator_bg
.
---
Welcome to another Contra update and Happy Easter!
This time it took longer to release a news update, but the work never stopped since the last update. There's work behind the scenes and there's work you see in news such as new models. After all, we posted News Update 11 and 12 one week apart like never before, while keeping them detailed.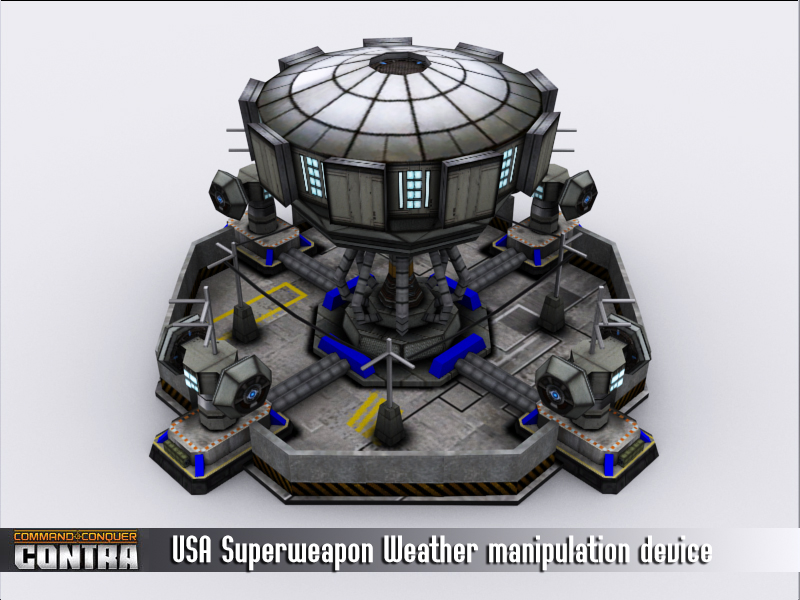 Weather Manipulation Device
(or WMD) is in the spotlights again. But why this model again? A sudden game crash was preventing us from inserting the model with all the initial details. Fortunately, that was fixed and the model was successfully inserted and looks as good as planned.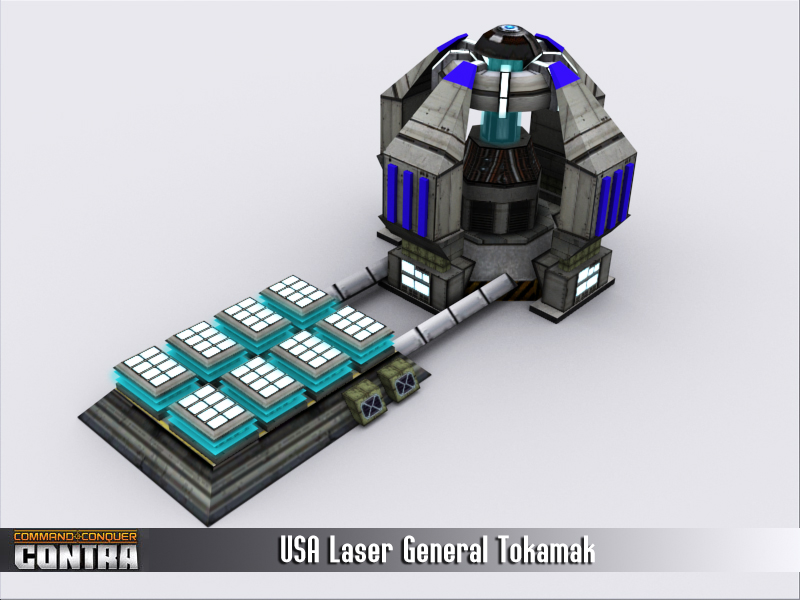 Laser general's
Tokamak
super power plant got a texture overhaul and it glows on night maps.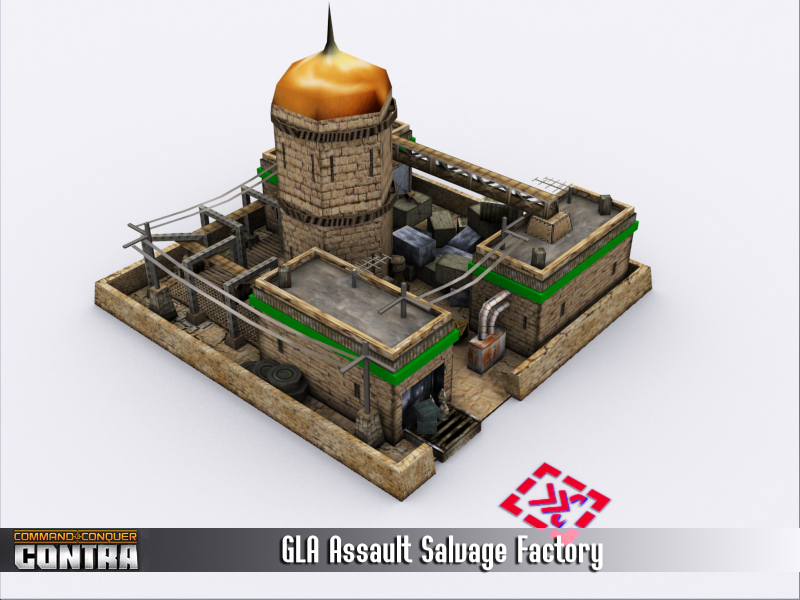 Salvage Factory
is a new building for Assault general. It was about time for Assault to get a special building since Stealth has Jammer Station, Toxin has Chemical Lab and Demo has Airfield. This new building is of course still being tested, but currently, it is available at rank 3 and costs $3000. Salvage Factory drops a salvage crate at the red mark each few seconds. Players have to manually place their tank on that spot in order to get the crate. In addition, "Recycling" upgrade is now available for research at this structure, thus at rank 3. We have some more ideas for this structure which may become active abilities.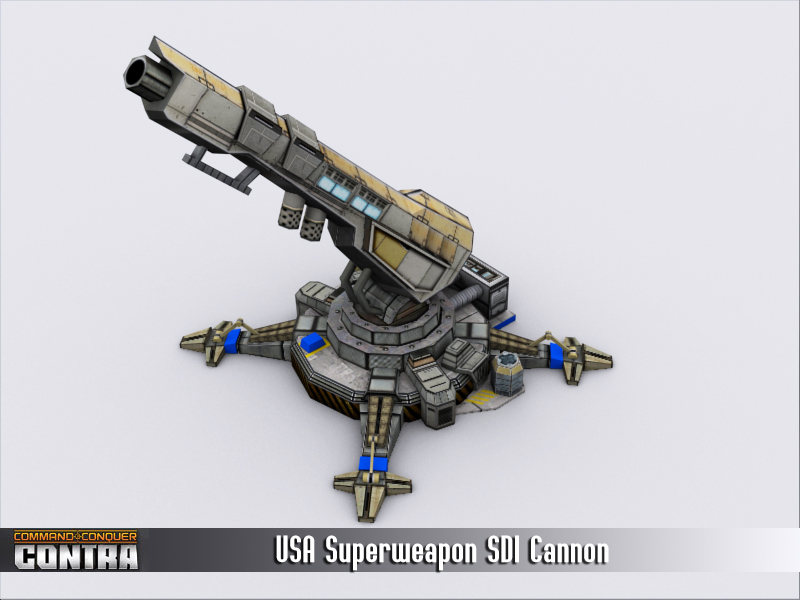 The good old
SDI Cannon
is now a good new
SDI Cannon
. All stats remain unchanged.
One good screenshot follows up. Let's not forget about the standard way of showing cool stuff, hey! Infantry general's Troop Crawlers...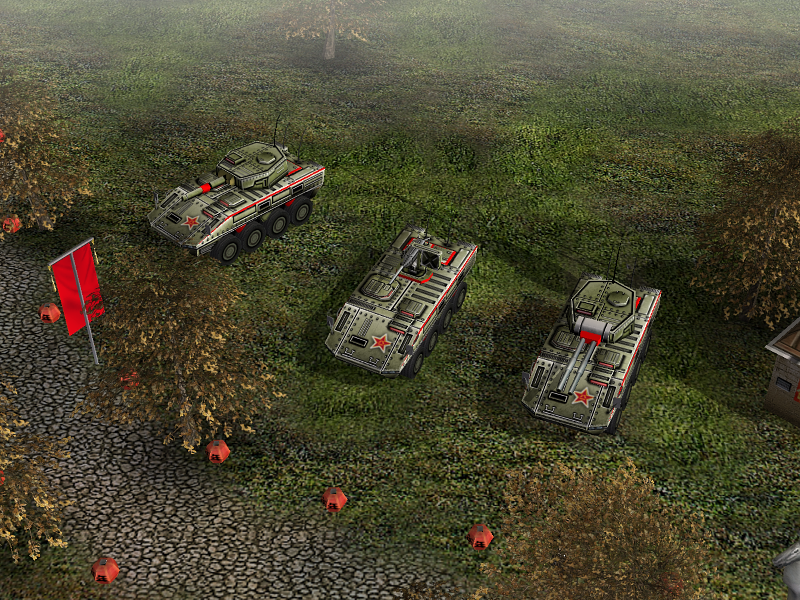 ... but it's not over yet. Particle and sound effects have also been improved without performance cost.
Before we end this update, we want to link you to
Maelstrom
's twitch. He streams Contra every Saturday, showing new content while testers play online:
https://www.twitch.tv/maelstromx103
He was very generous to record new voice lines for Angel robots, and is planning to do some more for other units.
And as usual: Link to
Discord
.
Hope you enjoyed!
|
View Comments
|
»
Contra 009 work in progress - Update 12
Posted December 23, 2017. By
predator_bg
.
---
Originally posted on ModDB by dce on Dec 23rd, 2017
Hi all!

First, we need to disappoint all of you who were awaiting a Contra 009 Final or another Beta release.
We decided not to release another version for these holidays.

...that's one way to start an update....

The reason is simple. We didn't have enough time to test and balance properly all the stuff we made and changed. Last year we were so excited to show you progress that we released some units with serious balance problems (like Ratel II, or Centurion tank with bonus).

Now we want to correct this, we will rather wait a bit more and release Contra 009 FINAL next year.
This is our plan, but please keep in mind that, if a car hits me or PredatorBG while we are walking down the street minding our own business, that plan MIGHT change (so don't ask for exact release day).

...some other less important reasons might delay release too, like WW3 or cancer....

So, we already said thanks to all of you who support us, and voted for us on MOTY. It is also great to see our community growing bigger on Discord channel. Once again, we are inviting you all there. Arrange games, make new friends, chat, and you might even get access to Developer version.

Last update was about amazing AI changes, this one will be about some model updates. Together with models, there are plenty of code changes too, which of course cannot be shown with renders.

Let's start!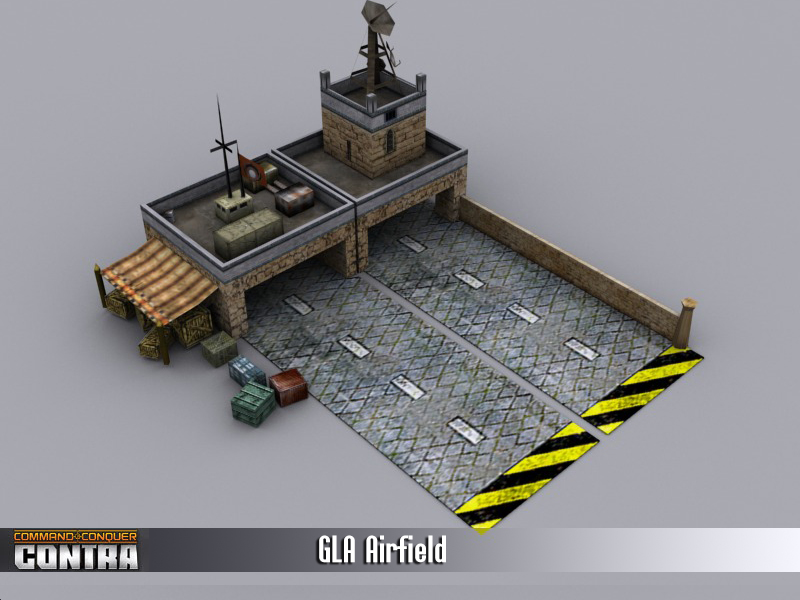 GLA Airifeld had major flaws with its appearance in game. So model is changed. It also contains only two units. Since GLA air units don't need to land on airfield, once they are in air, you can still produce as much as you like with only one airfield.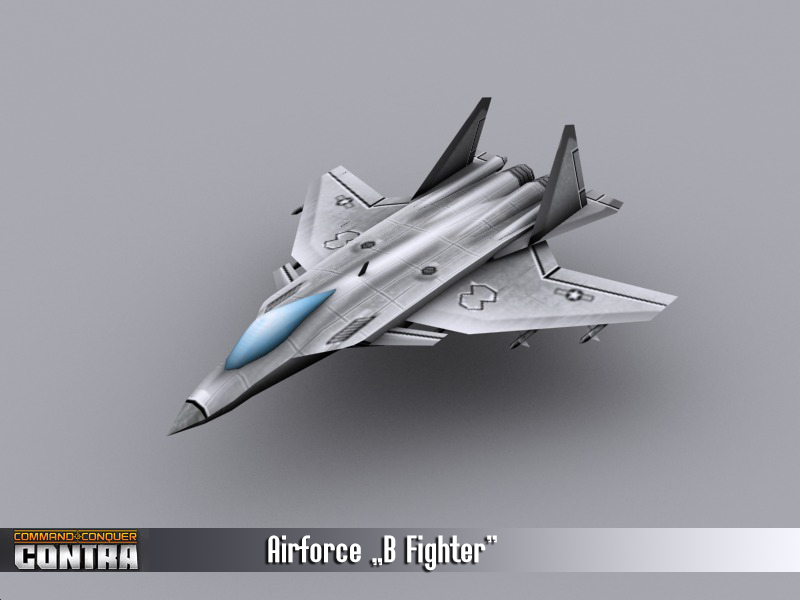 AF Burton A-10 strike was annoying and overpowered in many cases. So his ability is changed and replaced with another unit. This fighter can take down a single unit without causing massive damage to nearby structures and units too. Unlike A-10, fighter is also affected by stealth upgrade.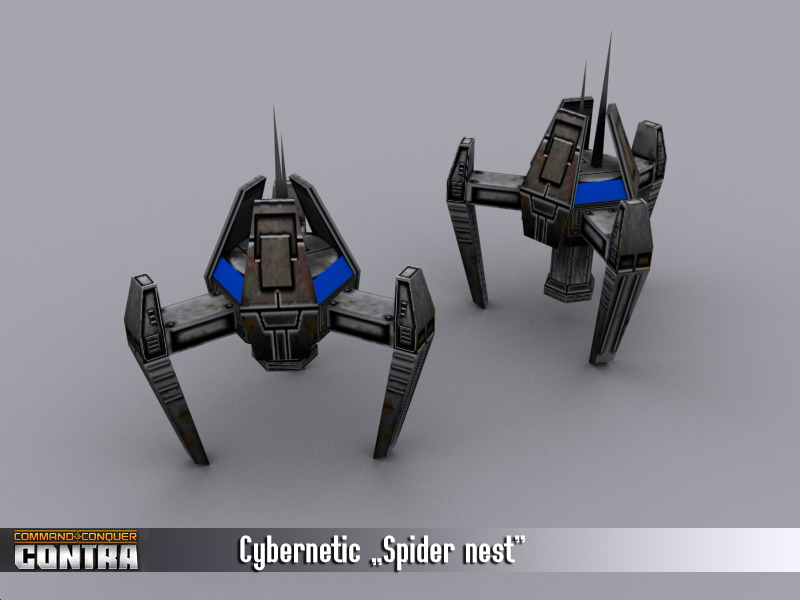 Cybernetic general is constantly being balanced. It's a thin line between being OP or a very weak general. New structure is called Spider Nest. This structure is small, cheap and easy to build. It is stealth all the time. Attacks nearby enemy units by releasing small Spider Mines. It is great when you need to stop Dragon tank, or any rush unit while you still don't have TOW missiles upgrade.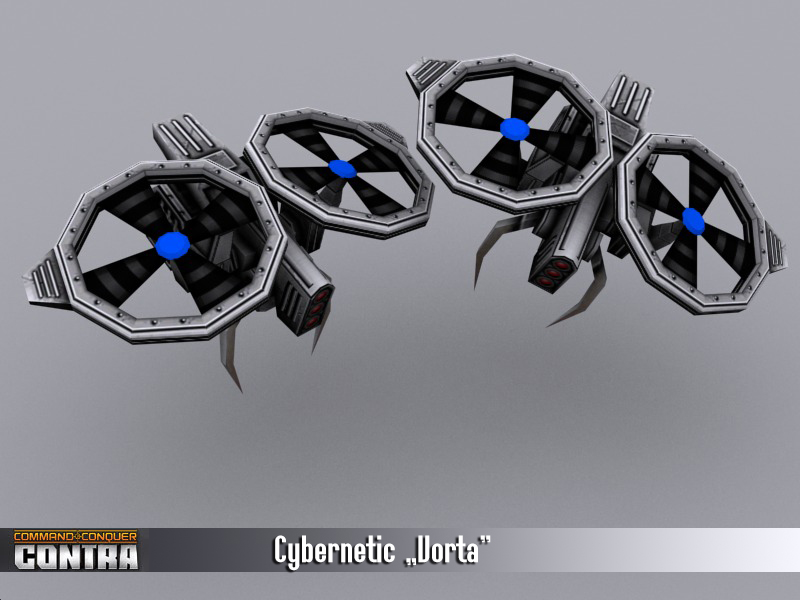 Another thing for Cybernetic general is Vorta (yes, I'm a Trekkie). Vorta is a secondary supplies gatherer. Half of the price of Harbinger, but it also brings half the amount of supplies. It is faster and can be used well in some critical situations where you need smaller amount of money but faster.

And last improvement is Nemesis N2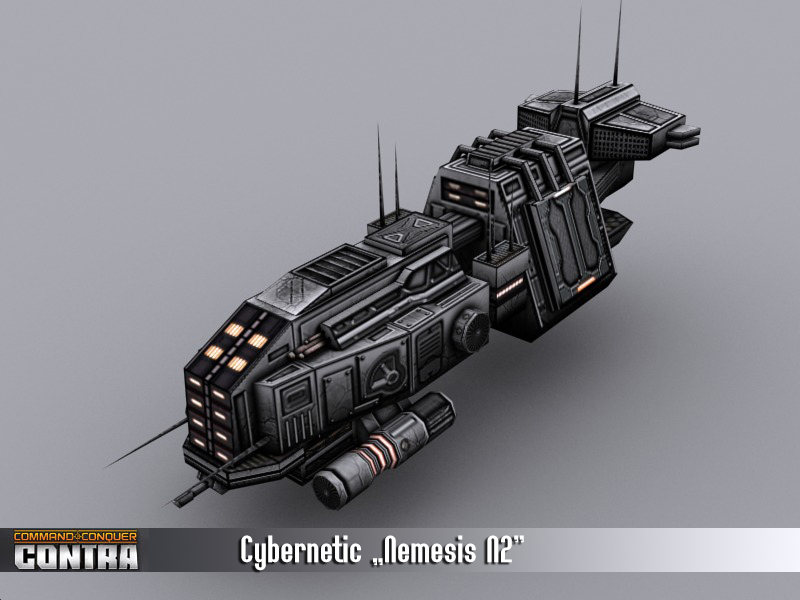 Old Nemesis is improved and replaced with this unit. His role is changed too. He is not a battle oriented unit anymore. In fact, he comes with 8 Cylons loaded inside. Thanks to Nemesis N2's great armor, you can transport them anywhere you like.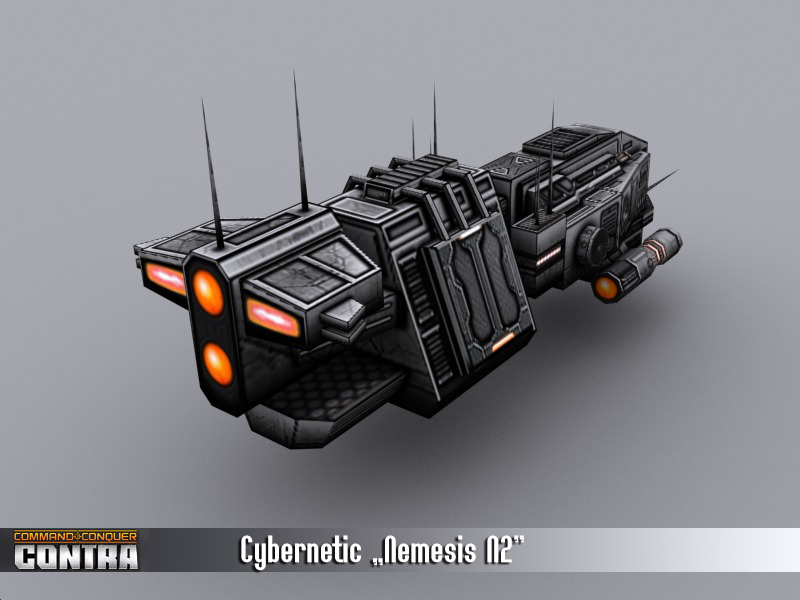 Of course, this also means Cylons as power drop, are not available anymore. Instead, you can drop a squad of Cyborgs. This is all balance wise.

So, there you go. Even while I'm writing this, another stuff is being made, nice and warm Christmas cookies, but these are all for me.

We wish you all Happy Holidays, and see you next year!

Woooooooooosshhhh (that's a sound of me flying off with my jet pack).
|
View Comments
|
»
Contra 009 work in progress - Update 11
Posted December 16, 2017. By
predator_bg
.
---
Originally posted on ModDB by ThePredatorBG on Dec 16th, 2017
Welcome back to Contra, dear generals! This will be an unusual update. This time, we will present you some of the improvements we made to the Skirmish AI. Let's go!
Since 009 Beta 2 release, many players, including me, were disappointed from the AI which was even more broken than the first Beta. It was time to get my hands on it. I started studying and testing AI. After fixing all the major bugs, I got interested in scripting some unusual, special AI behaviors.
What you see below is the Insane AI building a Hadron Collider near your base. I could have kept this one a surprise, but I'm sure many people will still not expect or forget about the AI being able to do it. This hidden attack is performed only by Insane AI on official 1v1 maps, suitable for building Hadron Colliders.
Next up, we have AI deploying AA Radars on their way.
Shandian and Centurions performing overwater attacks. Sounds dangerous, huh?
Troop Crawlers! More trouble.
Tank AI utilizing Bixies.
And dropping heavy tanks behind enemy lines.
A sneaky BTR-50 creating a Sneak Attack in my base.
Assault AI using the Rig Launcher to dig tunnels on its way.
AI will call paradrop support powers in their base. This prevents them from sending their paradrops on suicide missions.
We are also very proud to announce that Contra is much more stable than before. While playing online together, we noticed some suspicious situations (e.g. Nuke Battlemaster having a high chance of causing mismatch in the first few minutes of the game). Every mismatch we were suspicious about was later tested and if confirmed, we went over and fixed it. The most common cause was the following case: Many units had a minimum attack range glitch. If their minimum attack range was too low and they were ordered to attack close to their location, they used to fire a shot which would not register properly. It actually detonates at the bottom left corner of the map and therefore the game considers it a mismatch. Fixing this one drastically reduced mismatch errors. It is shown below.
More such stability fixes include Leonidas mismatch fix, Squid Drone crash fix, Strategy Center Battle Plan switching crash fix, and a very rare crash found by PeRSuN caused by a garrisoned Laser Defender shooting close enough to damage the building he was in.
Fixes to some texture shaders such as those used on parachutes, particle and AI optimizations improve overall performance. On top of all that, we have ContraVPN in active development by tet, which is as lag-free as possible. It will be integrated with 009 Final once it comes out.
That's all for now. Thank you for making us part of the top 100 mods in this year's MOTY competition. We hope we got you excited once again!
Consider joining our Discord channel if you're up for some online games or just hang out with us.
|
View Comments
|
»
Contra 009 work in progress - Update 9
Posted June 6, 2017. By
predator_bg
.
---
Originally posted on ModDB by d-ce on Jun 06th, 2017
Hi everyone!
This time, we made a special treat for all of you. Before showing renders with descriptions as usual, we put a bit more effort and made little trailer video about this update.
CAUTION!
Holding onto something while watching video is highly recommended, due to much awesomeness which causes your ass falling on the ground!
Now, let's explain what we saw.
- first, there is a new cool thing for Laser general. His Power Plant structures got unique upgrade, Laser Fences which can be upgraded from rank1. Laser fences will protect Power Plants from sabotage, and capturing by killing any infantry which comes very close. It also provides additional health to structure. But upgrade is not cheap, and drains one power point.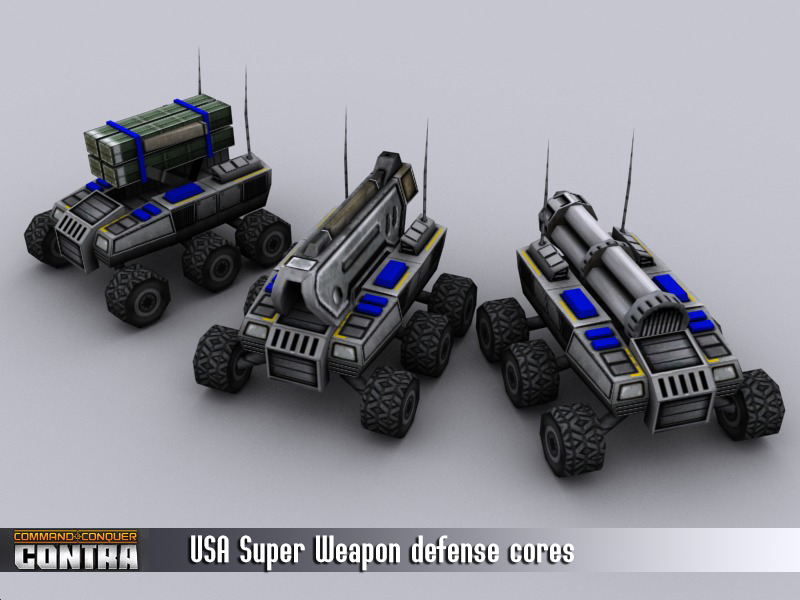 - defense cores are special vehicle units for Super Weapon general, which can be produced from Command Center. From left to the right, Patriot, Ion and Grendel. As we saw in video, they can be deployed in their respective defense structures. Their cost is equal to defense structure and half of the Dozer price. In balance order, they are vulnerable, and especially in deploying phase which takes around 7 seconds. Defense cores are great at reducing micro, and capturing more zones on map. Carrying them by Chinook and deploying multiple at the same time, is much easier than building each structure with one Dozer.
- Atlas defense structure is already shown:
And now you saw it in game, with new weapon projectiles.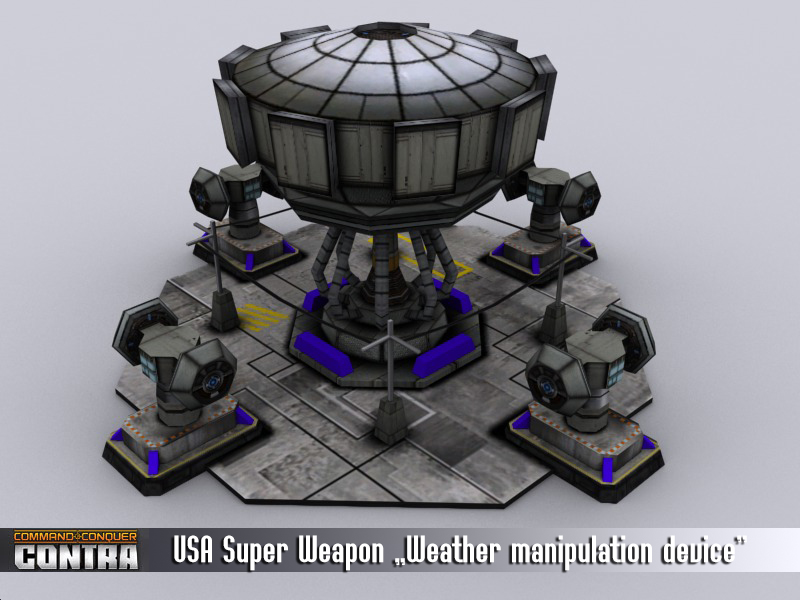 - Weather manipulation device, is actually replacement for Blackout Missile System. More or less, it acts the same, but more visual effect is given, and will be even more. It also deals a bit more damage.
- Thing which is not shown in video, is Gatling addon for Patria
In order to balance Infantry vs. Airforce matchup, minigun upgrade for minigunners is moved to rank 3, while Gatling upgrade affects Machinegun Patria both visually and with firepower.
And last but not least, is visual improvement on all USA structures, thanks to PredatorBG who took some time and effort to improve them for all of us:
Click
We would also like to thank Hecthor Doomhammer who gave great review of Contra mod.
That's it for this update, see you soon!
|
View Comments
|
»
Hecthor Doomhammer Tries Contra
Posted May 14, 2017. By
Hecthor Doomhammer
.
---
It's time to bring the Command & Conquer: Mod Spotlight back to a Generals - Zero Hour mod.
This mod was highly requested back in 2015 when I first announced I was interested in doing these Mod Spotlights and now it's finally time to dive in BLINDLY!
Over the course of 4 weeks (with 1 week me being away) I will
take a good look at what Generals: Contra has to offer.
I can already tell from the 5 minutes I looked at this mod to see it it would work, that I've got my work cut out for me.
Tonight, May 14th 2017 at 20:00 CET / 18:00 GMT I'll have a good look at what treatment the GLA Faction received.
Since Contra introduces 1 new General per faction, I'll go over the vanilla Generals first and save the new one: Assault, for last.
|
View Comments
|
»
Atlas Base Defense
Posted April 16, 2017. By
predator_bg
.
---
Happy Easter everyone!
This time we didn't make a news article, since there are not many visually finished changes, but we do have one new unit ready.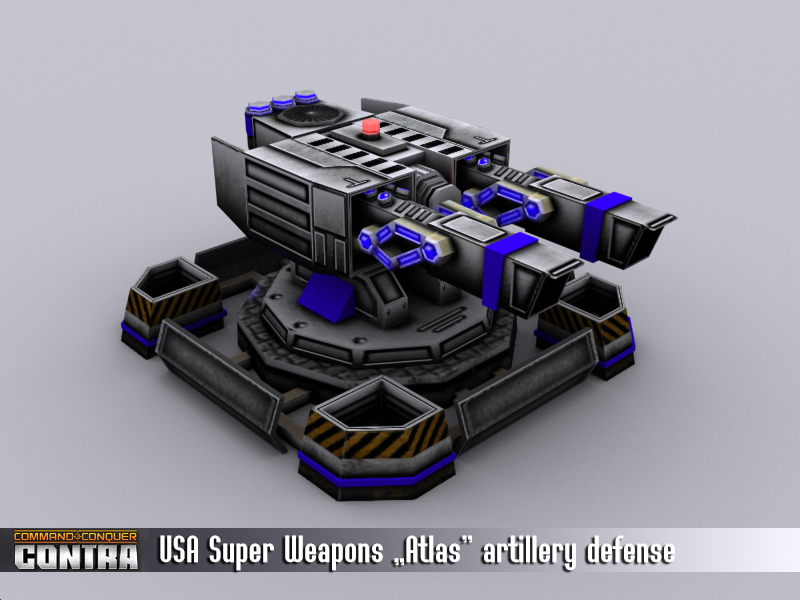 "Atlas" base defense replaces the old SSM artillery defense for Super Weapon general at rank 3.
Cost and build time are the same, it can hold up 4 infantry like before. But it lost ability to clear toxins and acids.
Also, it doesn't fire rockets anymore, instead it fires Power Bullets which can be upgraded both with Emmiter upgrade and EMP explosions.
Bullets are currently not deviated by ECM field.
Stay tuned for the upcoming Update with more news and fancy stuff!
|
View Comments
|
»
Contra 009 work in progress - Update 8
Posted February 26, 2017. By
predator_bg
.
---
Originally posted on ModDB by d-ce on Feb 26th, 2017
Hi folks!
It's been two months since we released
Contra 009 Beta 2
version, and we can only say that we are very happy with your feedback, and with approximately 100 downloads per day.
We are also glad to see more people being active on Tunngle and our
Discord
channel. We apologize for not being active there, since we are occupied with our work for Contra, but you can discuss things there with some other people, and arrange games.
As you guys play and report bugs, we fix them and improve things.
We fixed obvious Ratel II overpowered state, Centurion bonus damage and so on. Everything with purpose to make game even more balanced and enjoyable.
But we also proceeded with our scheduled work. It's important to note that this is not a patch update as some people are thinking, but a news update. Let's get to it.
This time we are more focused on GLA.
- GLA Chemical general got a new structure, Chemical Lab, which replaces both Defiler and Bunker.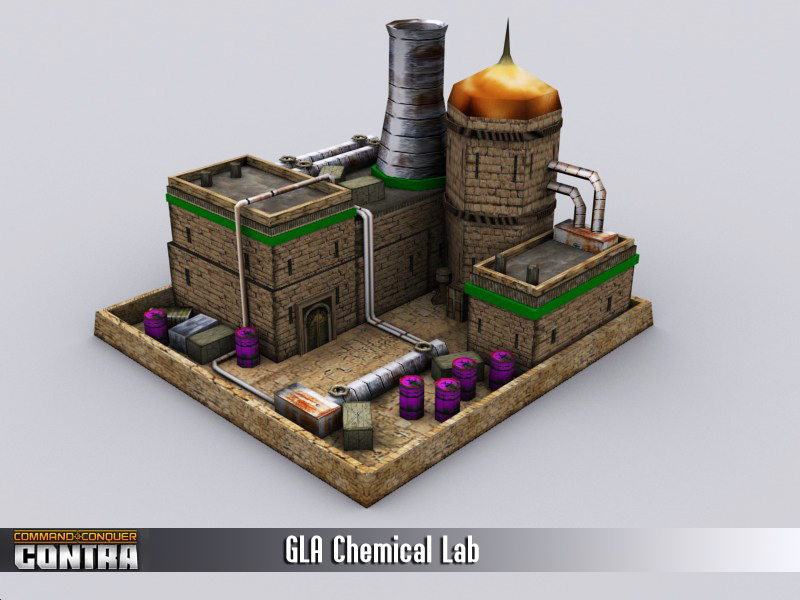 Chemical Lab holds important upgrades for Chemical general. This is also the only structure which can spill toxins around, on your demand. Lab can launch both toxin and acid clouds anywhere on the map. Structure is available at rank 3, but requires Palace.
- Next one is Demo Scorpion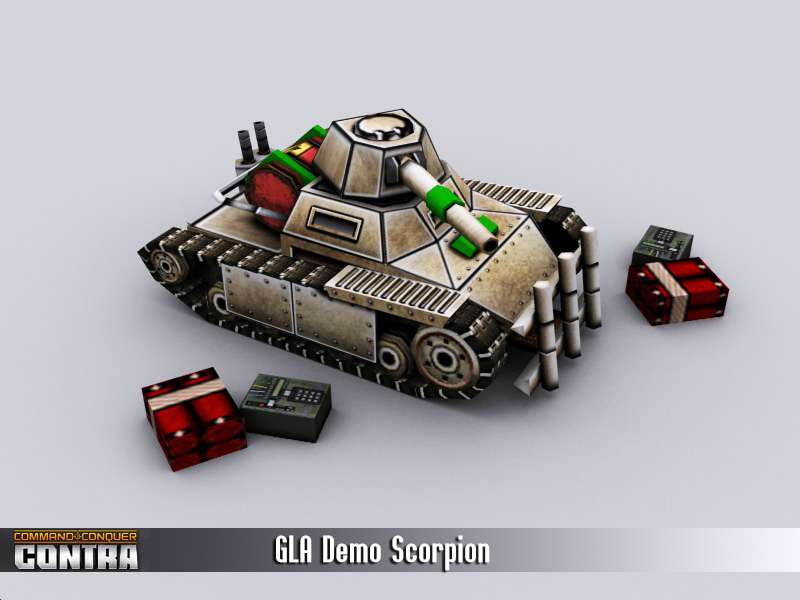 It was about time to change the old model right? We are focused on Demo general, since he has serious problems dealing with other generals. Demo Scorpion has better primary damage, and his standard suicide weapon. But, new addition is the demo charge, which Scorpion leaves on the ground when destroyed (not suicided). Demo charge can deal serious damage to tanks and infantry. It is a very good addition when your forces are retreating, or when attacking. Demo charges will block enemy units from advancing forward, or from chasing your units.
- All GLA generals got one version of Technical which replaces all old variants.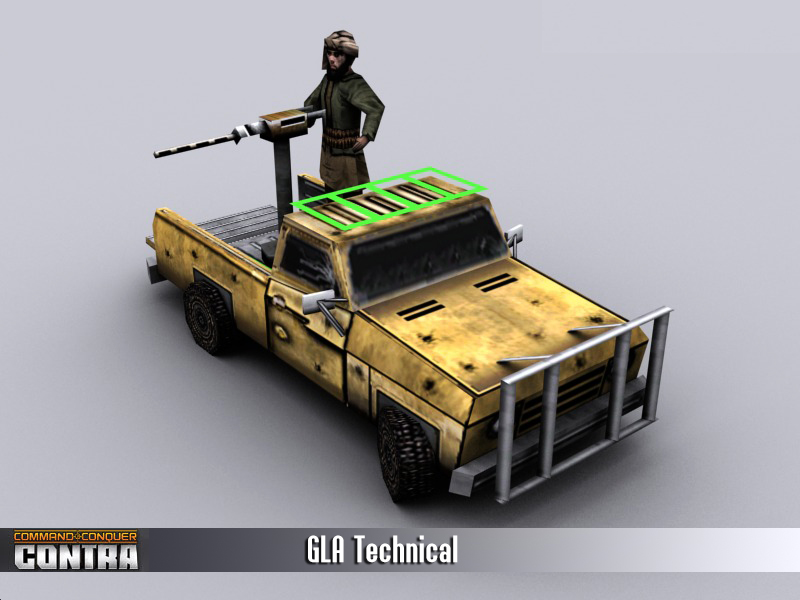 This means also for GLA Chemical general. Chemical general now has Wasp available from rank 1, as AA unit. And Technical is now conventional rank 1 transport unit. His weapons are fixed now and get proper bonus from salvages.
- Last but not least, is visual update for China Bunkers. Previously, their garrisoned versions just had additional housecolor blocks, which were ugly. Now, it is improved with sandbags and wires.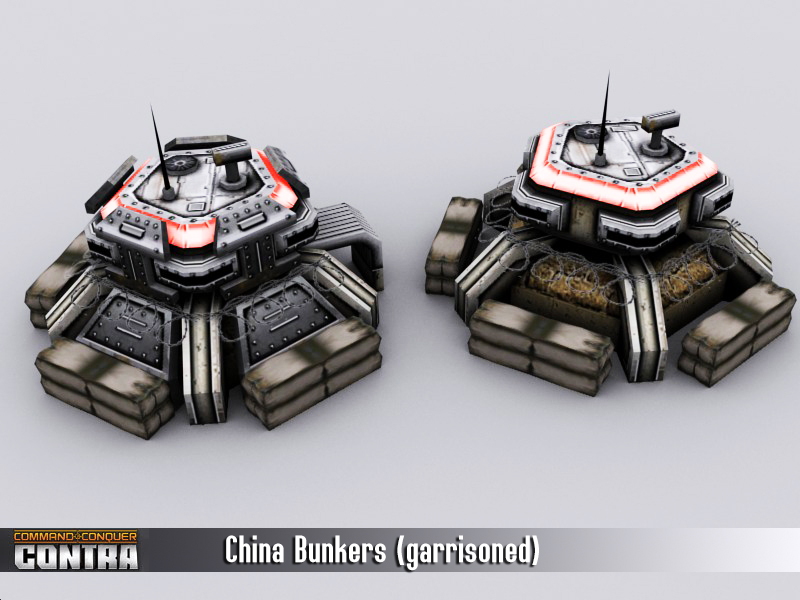 I suggest you to subscribe and to follow
Persun's
channel, you can see good testing games between us there. You can also see new updated things even before article here.
There were some awesome games lately, which you should see:
A few errors, possibly causing mismatch errors have been found. We are testing for mismatches as well.
ThePredatorBG analyzed and fixed some errors in Skirmish and Challenge AI, as well as usual bug fixes.
Hope you enjoy, and see you next time!
|
View Comments
|
»
Contra 009 Beta 2 Released
Posted December 26, 2016. By
predator_bg
.
---
Merry Christmas and Happy New Year!

Hi everyone, as promised, we are releasing yet another version of Contra mod.
A year has passed by since the last beta version, and we made a lot of changes. As usual we have made many new things for you guys to discover and enjoy. Improved old and bad things, fixed bugs, and added new stuff for you to play with. Two brand new Challenge maps are available: Demolition and Flame.

Before actual download link, there are few new visual improvements to show, so let's start.

USA Laser Avenger tank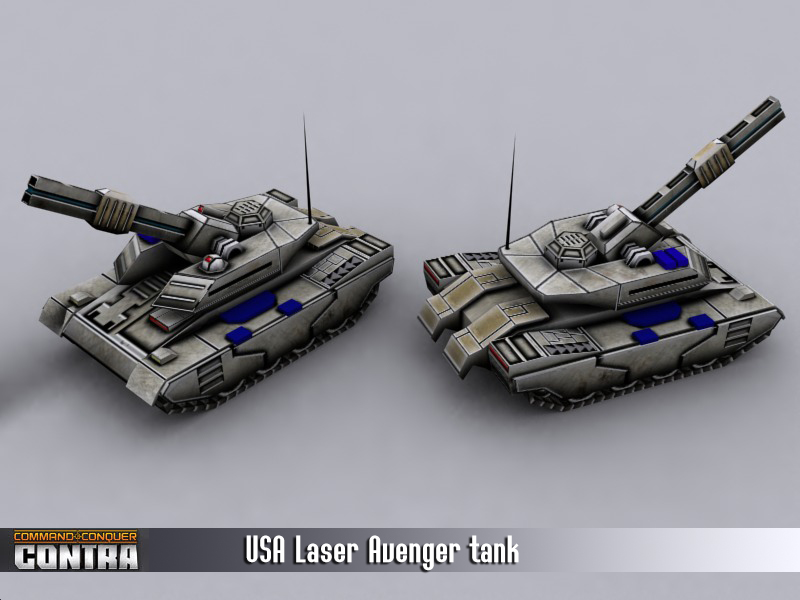 Old Avenger model got replaced with new one, but it is not just visual update. New Avenger has only one weapon, which is of course anti air, but he got new hybrid armor. Armor which is resistant to RPG missiles more than usual AA unit, and also resistant to Jet Missiles. You could say, it is combination of regular tank, and anti-air tank.

USA Air Force's Black Hawk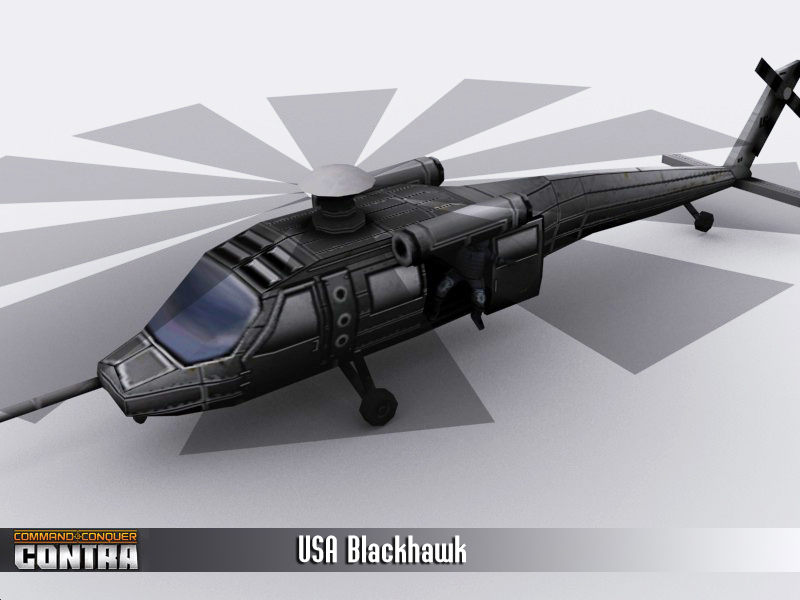 In order to balance generals' powers, we did some changes there too. So Air Force general's Shockwave Bomb is removed, and replaced with SEAL drop. SEALs are dropped by 3 stealth Black Hawks, which are very well armored too. This power is available at rank 5.

USA Air Force's Navy SEAL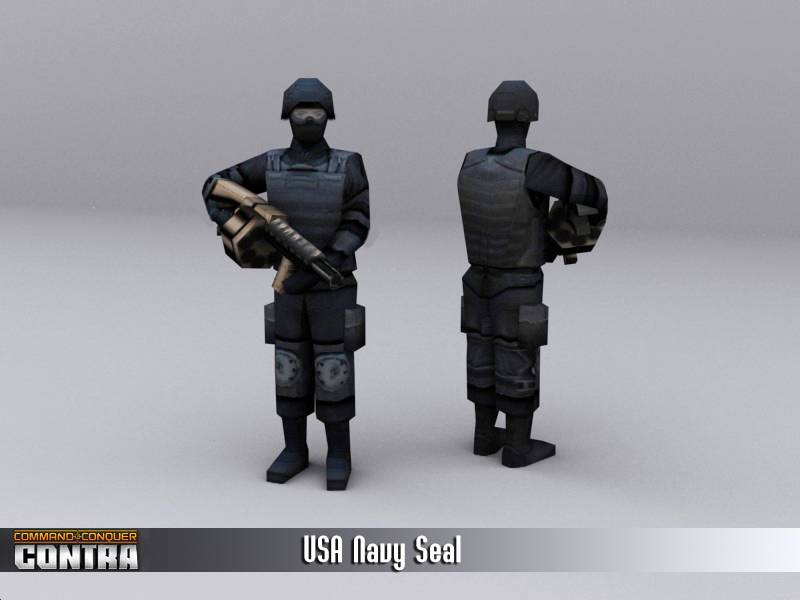 So as explained above, SEALs are dropped by stealth Black Hawks. All together 9 Seals, very well armored and equipped with M32 grenade launcher effective vs all ground targets. They come as a good support, or ambush attack from behind. In future, SEALs will get the ability to swim, and place explosive charges on structures. They are also stealth while not moving or shooting.

GLA Toxin Pump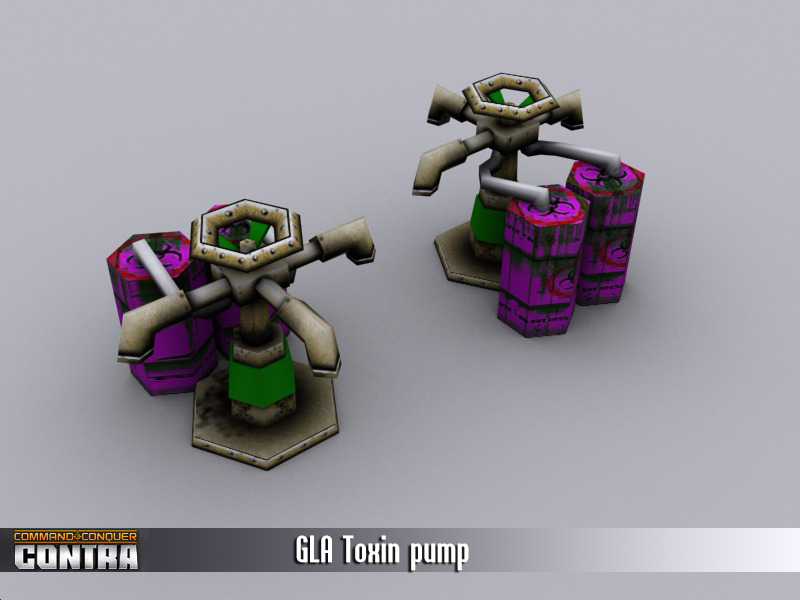 GLA Toxin general's demo traps are replaced with toxin pumps now. This nice little thing can spill both toxin and acid (despite of the name) around itself and damage nearby units. It is manually controlled. Acid damages pump and destroys it, but if you purchase Neutralizers upgrade at rank 3, pump won't damage itself anymore. Of course, both toxin and acid can be even more upgraded to bring more damage. Plant those things on map, pollute everything and enjoy watching your enemy dying slowly. Toxin pump is stealth, and can be destroyed by any unit.

Last but definitely not least, is improvement on GLA structures. PredatorBG took some time to improve GLA textures, and with this, all structures look much better.

This is render of GLA assault general's Temple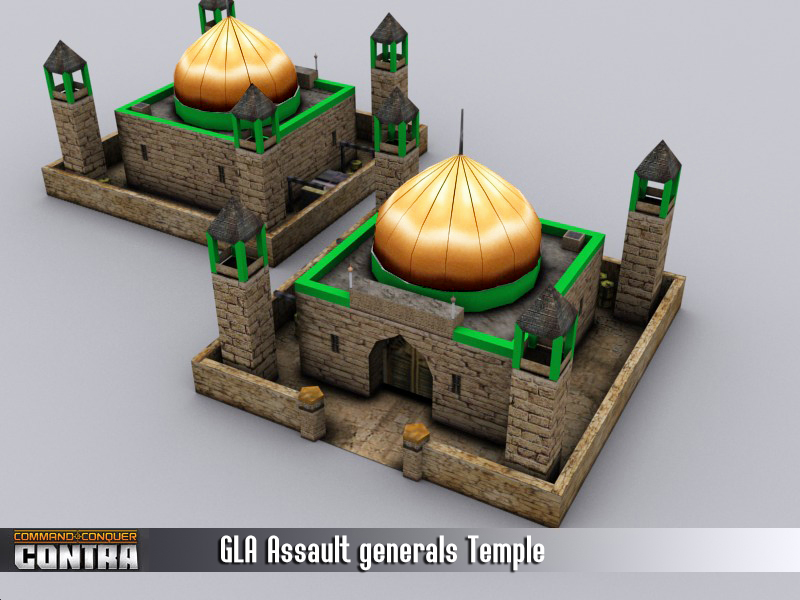 No more yellow boring walls, now we have nice looking bricks.

And here is a picture of all GLA structures together: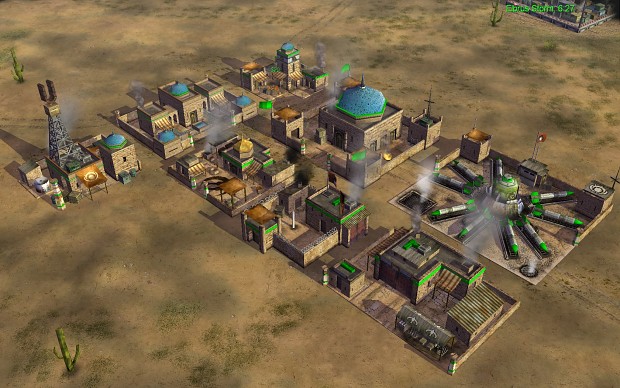 Before you download and start playing, please read these most important gameplay changes, and avoid unpleasant surprises
all USA Valanx units now come with already upgraded TOW (but nerfed) weapons
all USA Valanx units passengers cannot fire from inside anymore
all USA Laser generals units, can go through rampage from game start, meaning, they upgrade lasers individually with experience
all GLA tunnels no longer have a mounted weapon, and don't give free tunnel defenders, but they are much cheaper and built very fast
all GLA command trucks are limited to 1
you can reach rank 6 now, which gives you additional 3 science points which you can spend on your general's powers
...for complete changelog article, visit this link:

Complete changelog

And now, finally download link:



Now, we will take some rest from working on new version, and we will be available for online playing with you. So, we are inviting you to join us in Tunngle and play with us, if you see us there, feel free to challenge anyone for a game.

Contra 009 Tunngle room screenshot

We would also like to thank some youtubers, which helped us in promoting Contra, with posting their videos. Either on multiplayer or challenge games. Visit their channels, and watch some good videos:

Persun (our tester and balance advisor)
MasterofRoflness
BurakkiD
Irwe3
GeneralsGentlemen
westwood

And a few more final words, about our future plans. So next release will be Contra 009 FINAL. Which will have some finished things from this version, and fixed bugs. This 009 Beta 2 is almost as complete as 009 FINAL would be, but we decided to release it under beta code name, in order to give you guys something for holidays. We plan to release 009 FINAL in 2017, if our RL goes as planned.

We would like to thank you for all support, and for voting on MOTY. Keep in mind, we are just 2 people that are working on all aspects of this mod. We have RL same as you guys have.

See ya next time!
|
View Comments
|